GauchoCast is a video hosting website that processes and stores video media. GauchoCast can also be used to facilitate student video submission. The following article will go over how to set up an assignment in GauchoCast from a Canvas course. Students will then be able to create and upload videos to the assignment.
Note: In order for GauchoCast assignments to work, you will need to have enabled GauchoCast for your Canvas course through the steps here.
Set up an assignment with GauchoCast by setting up the GauchoCast Assignment folder, through the steps below:
1. In your Canvas course, click GauchoCast from the Course Navigation menu.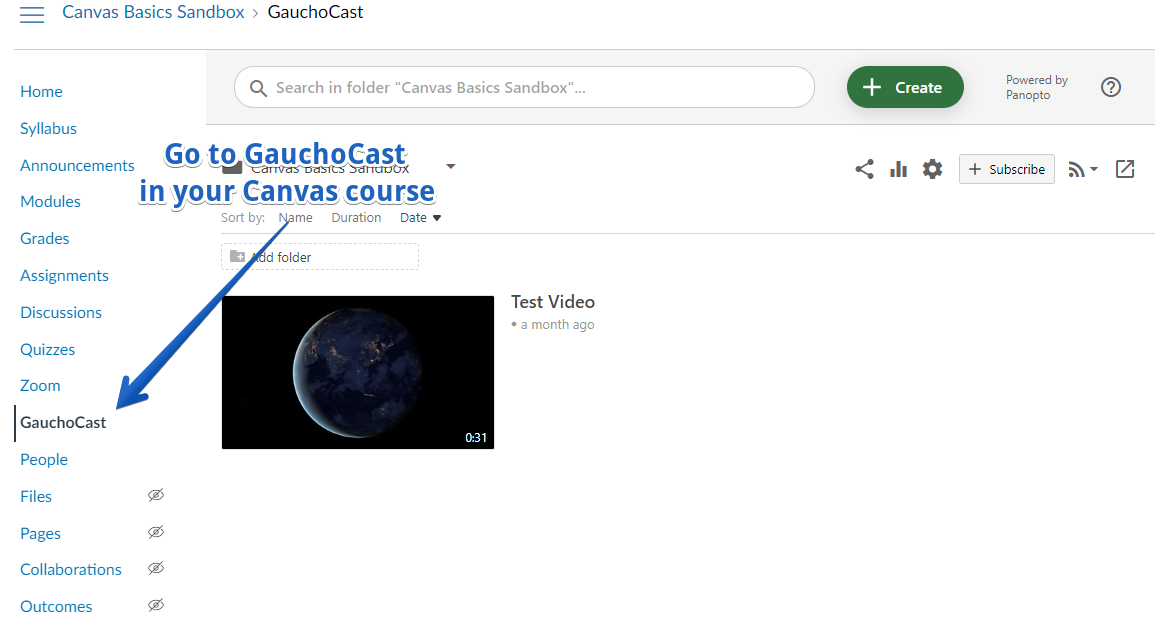 2. Click the gear icon within your GauchoCast folder in the top right.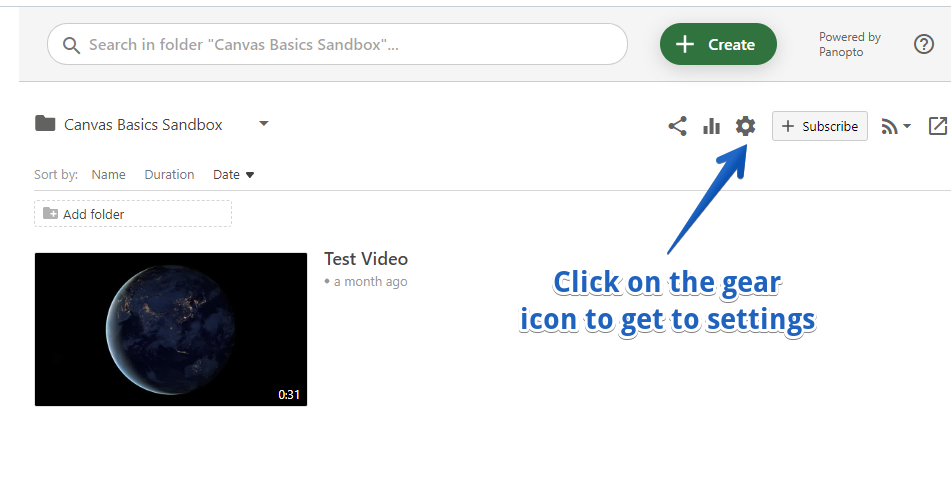 3. In the pop-up window, click Create Assignment Folder.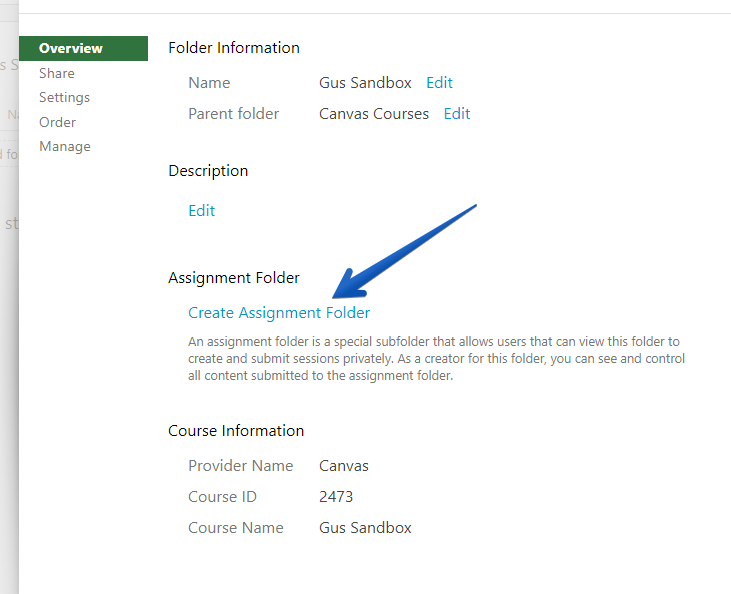 4. This will create an Assignment Folder where student recordings will be stored. You can click on the Assignment folder from the main GauchoCast screen to access it.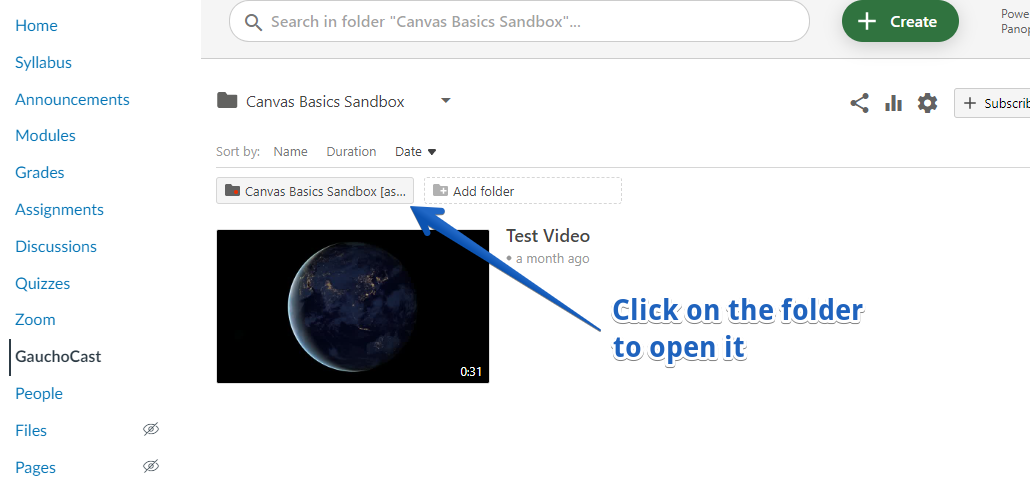 5. To edit the name of the Assignment Folder, click on the gear icon in the top right while in the Assignments Folder.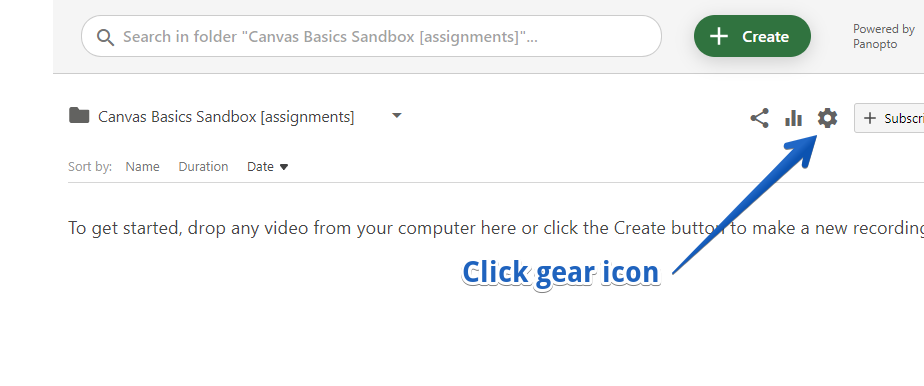 6. In the pop-up window click Edit next to the Name and enter the name. When done, click Save.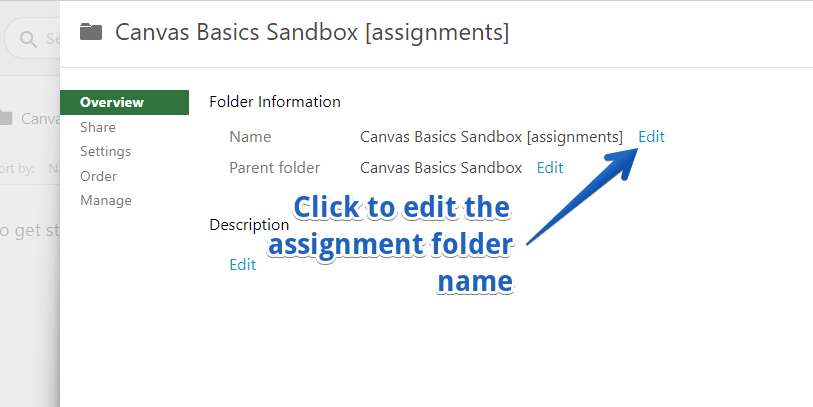 7. You can then exit the folder and proceed to make an Assignment in your Canvas. In the Assignment details, we recommend explaining to students:
They are expected to submit a video to the GauchoCast folder that you named in the previous steps
Link this article for the steps that students can use to submit their video recording.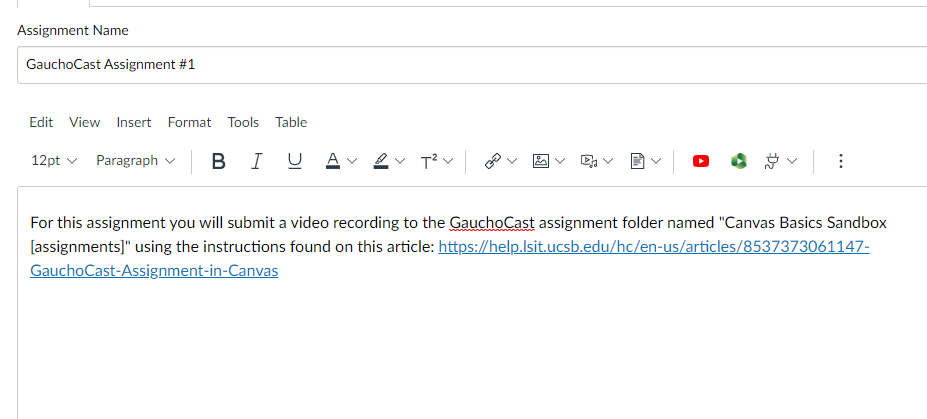 8. In the Assignment settings select the "Online" for the Submission Type setting. Then, select "Text Entry". Set other assignment settings such as Points and Due Date, as needed.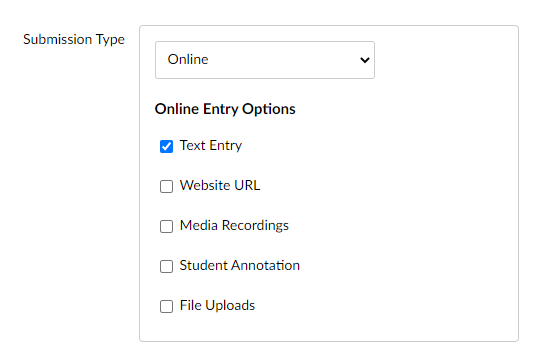 9. Click Save and Publish. Students can then use the steps in the section below to submit their recording.
To submit a video recording or record a video for a GauchoCast assignment follow the steps below:
1. Open the Assignment in Canvas.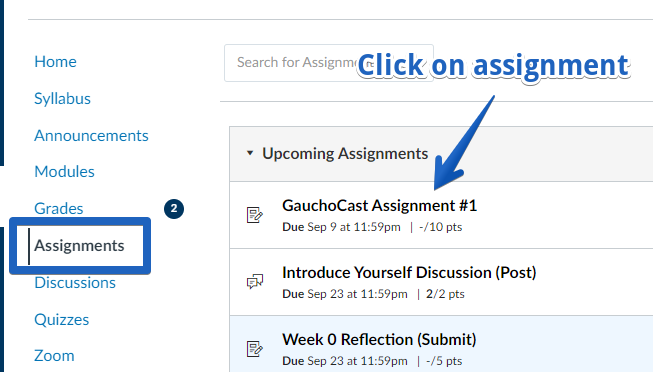 2. In the text box for the assignment click on the green circular icon in the text editor.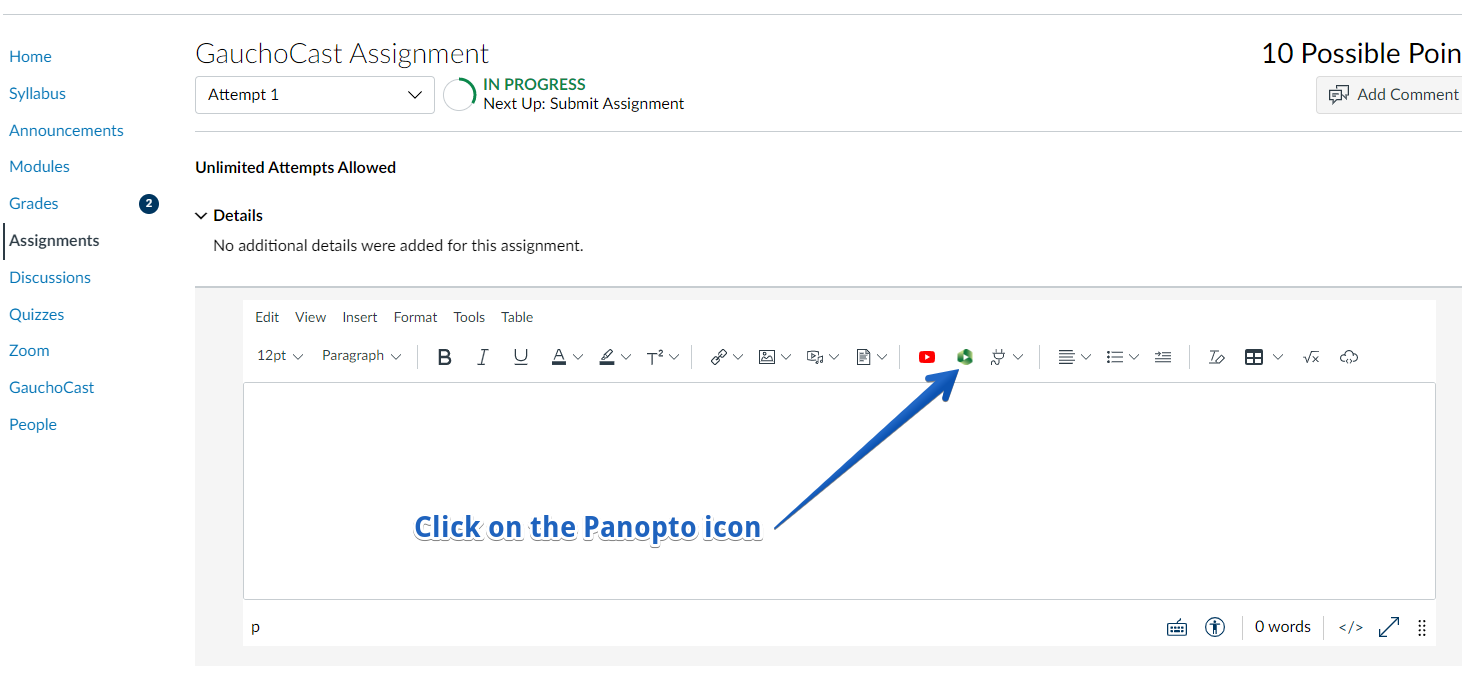 3. In the GauchoCast pop-up window use the drop-down menu and locate your course under the "Canvas Courses" folder. Open your course folder and select the Assignment folder that your instructor referenced in their instructions.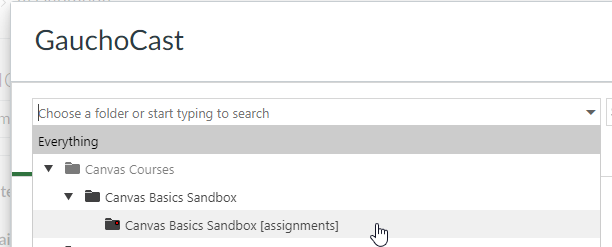 4. Either upload your video using the "Upload" option or use the "Record" option to record a video submission.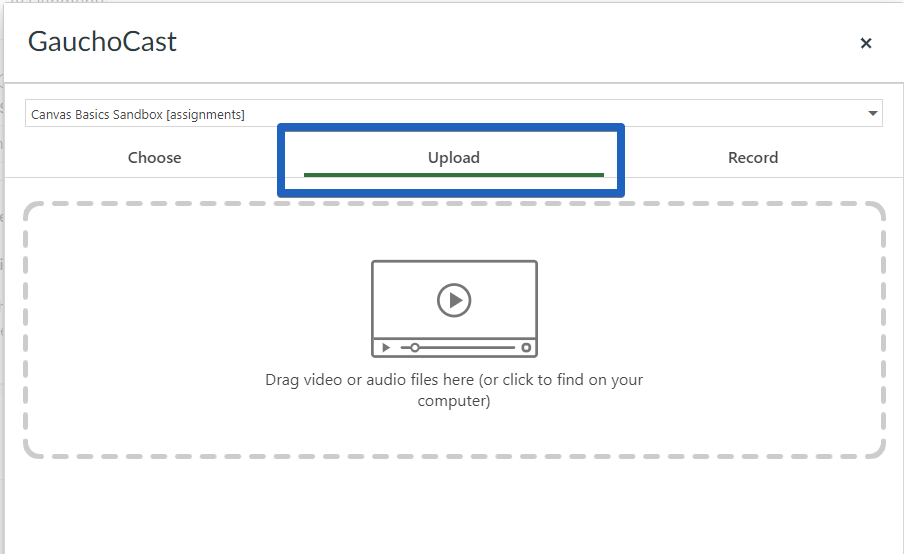 If recording using GauchoCast, we recommend using the Capture option.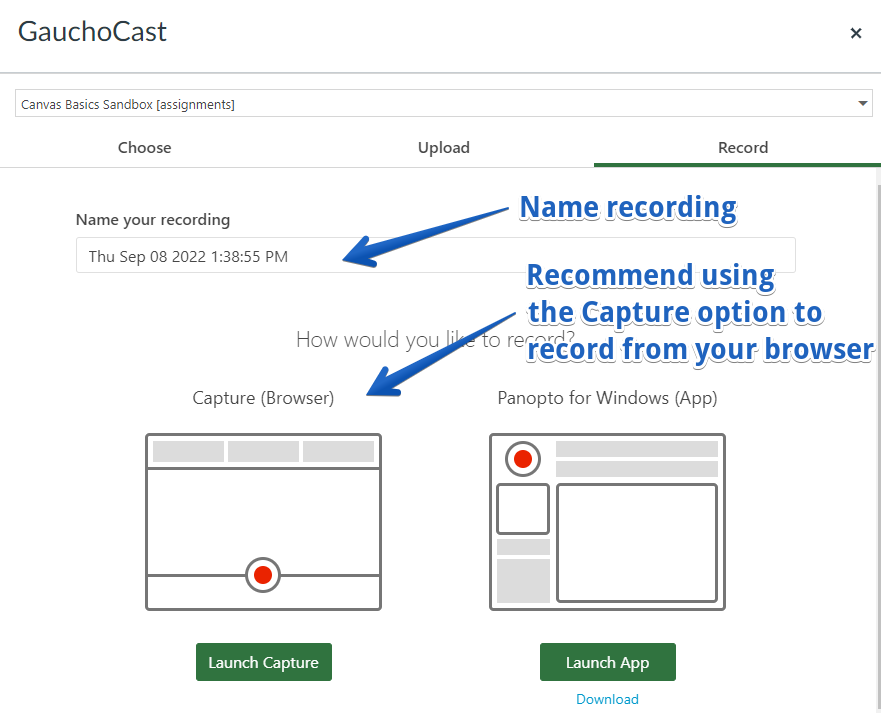 5. Once you've either uploaded or recorded your recording click Insert in the bottom right.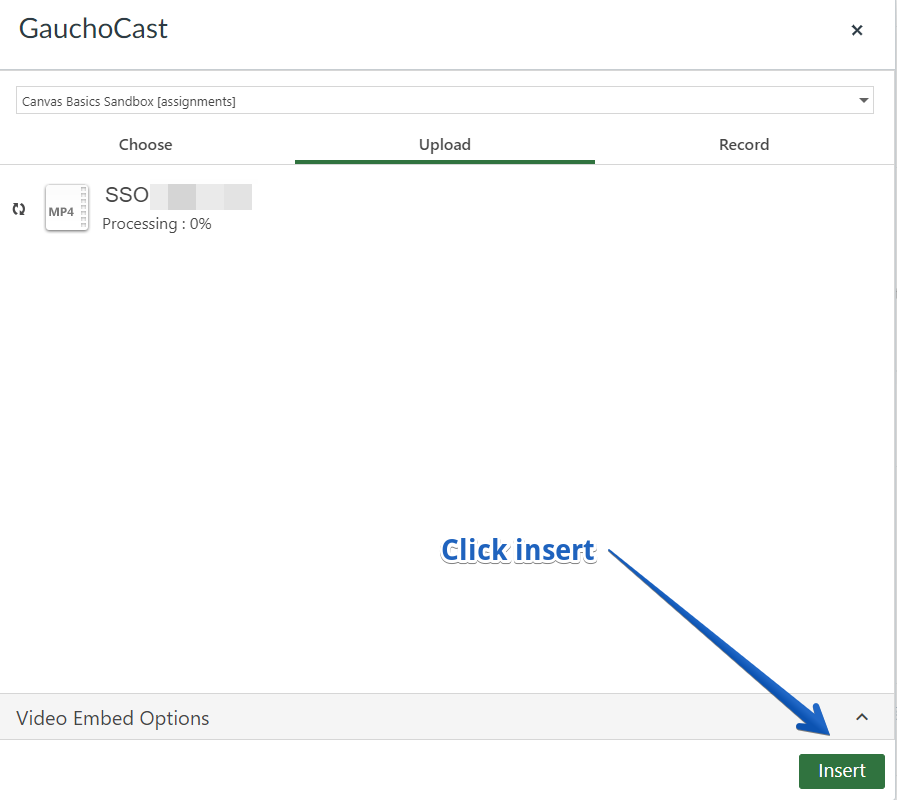 6. With the recording added to the submissions page, click Submit Assignment on the bottom right.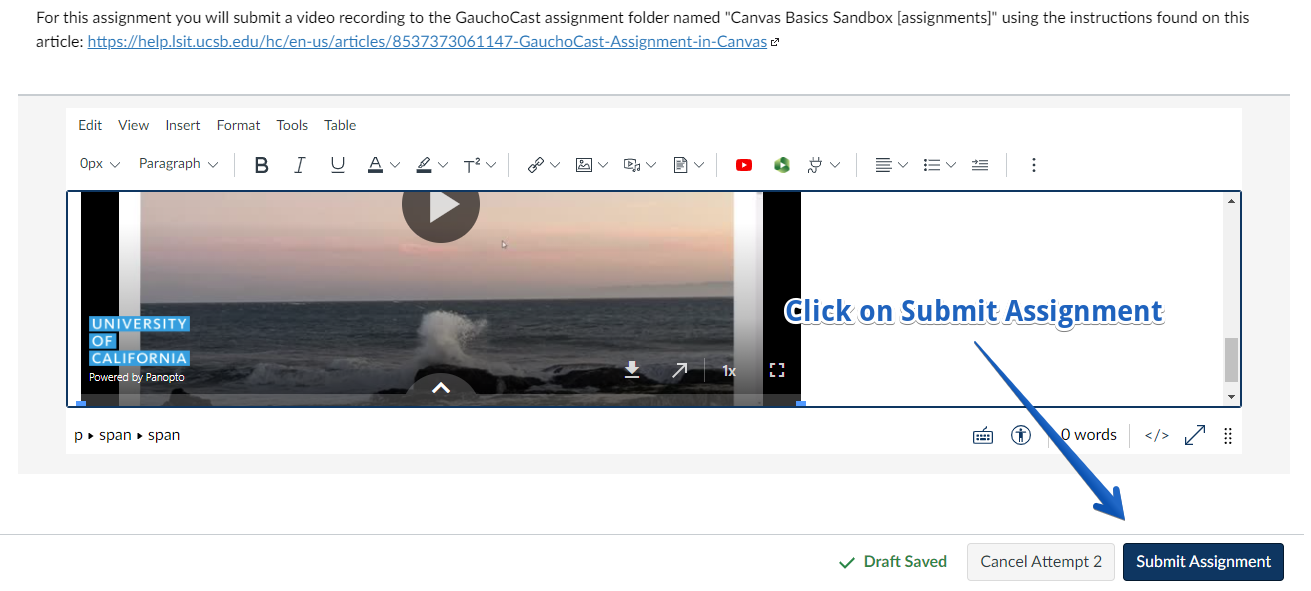 Once students have submitted recordings to the assignment, instructors will be able to see and play them in the Speedgrader interface.