Canvas' Scheduler appointment groups provide a quick and easy way to schedule appointments for group presentations, oral exams, and more. You can set up time slots that students or groups can sign up for. This page walks you through how to:
Create appointment groups that students can sign up for
View and edit existing appointment groups
Students can sign up for Appointments through these steps here: How do I sign up for a Scheduler appointment in the Calendar?
Note: Canvas' Scheduler feature does not support recurring appointment groups. This means in order to set up weekly appointment slots (say, for every Monday in a term), you would need to manually create the slots for each week of the term.
To add an appointment group that allows students to sign up for times, follow these steps:
1. Log in to Canvas and click Calendar from the global navigation menu.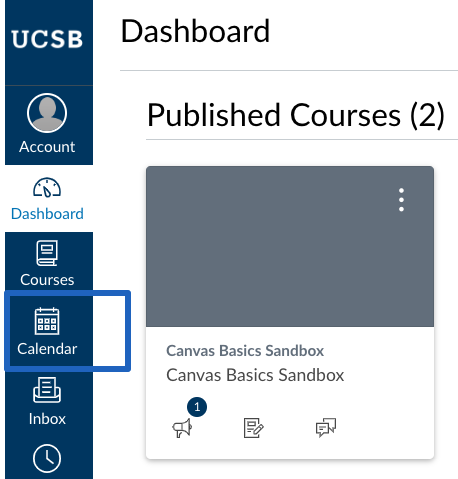 2. Check that the course you want to schedule appointments for is active (not greyed out)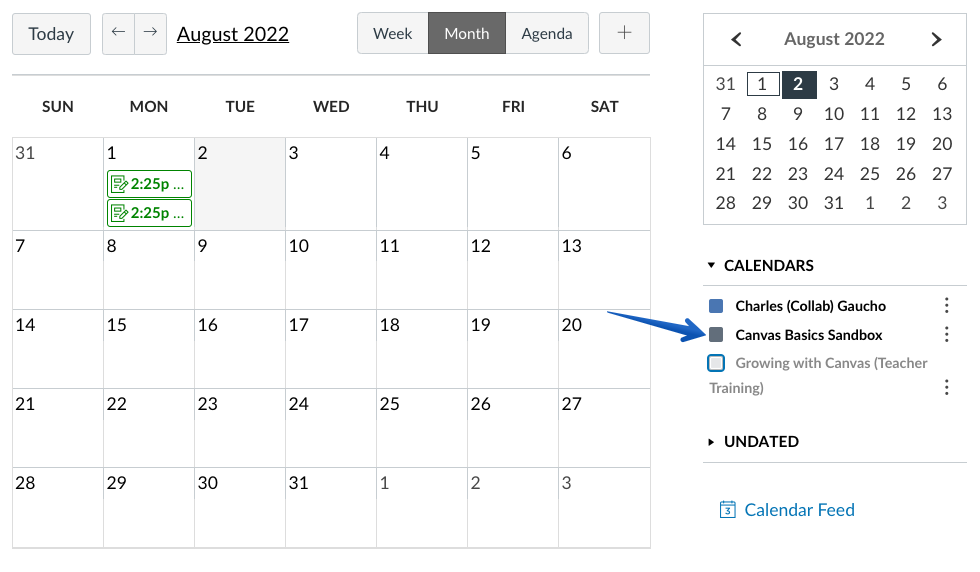 3. Click the + icon in the top right corner: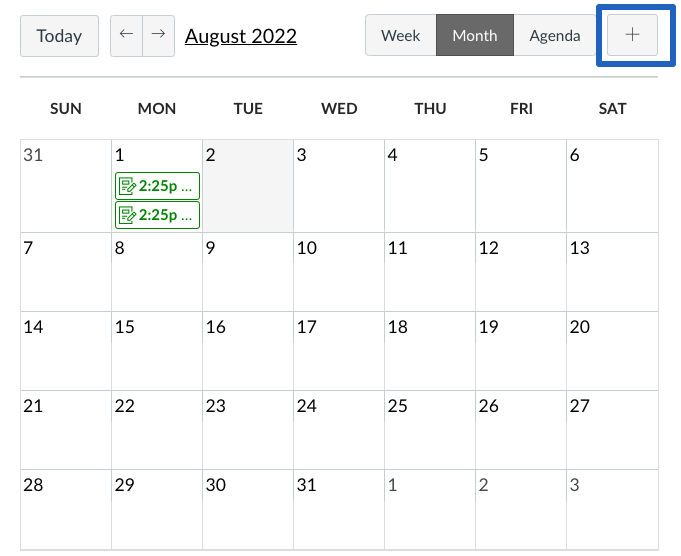 4. Select the Appointment Group tab: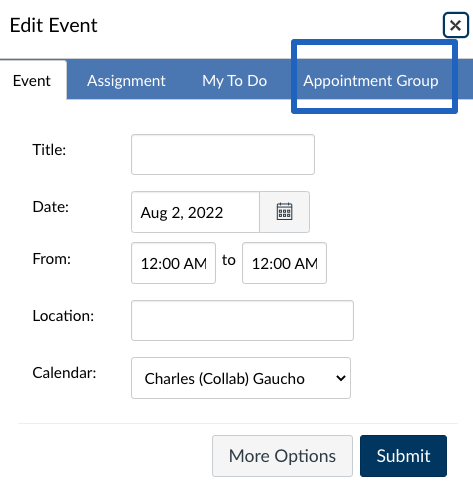 5. Enter a Name (for example "Oral Exam") and a Location (for example, your office number or a Zoom link)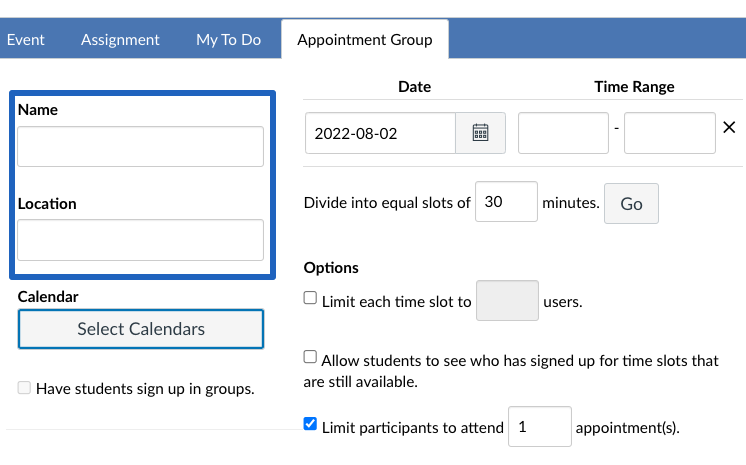 6. Click Select Calendars. Then, select the course(s) you want to make the appointments available for. You can also click the drop-down arrow next to a course to select individual sections.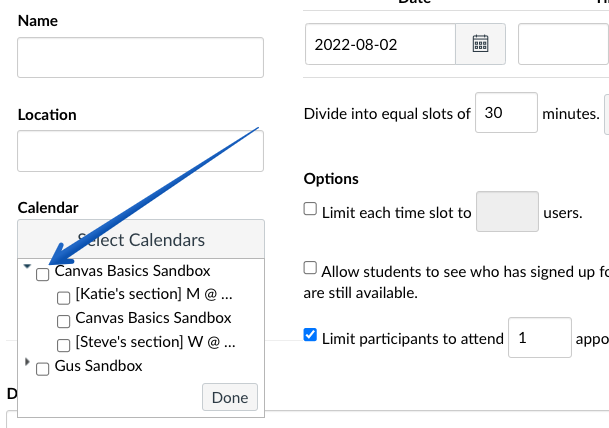 7. If students are to sign up in groups, check the option for Have students sign up in groups and select the appropriate group set. With this option, when one student from a group signs up, the appointment slot is added to the remaining group member's calendars.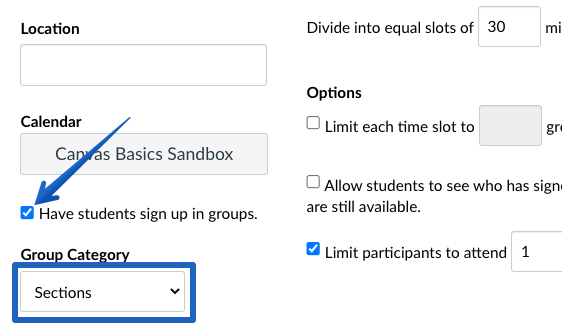 8. Set the Date and Time Range. The Time Range is the start of the first appointment to end of the last appointment. Once you add the first date and time range, you will be able to add additional date and time ranges.

9. To split the time range into multiple appointments slots, enter the length of an individual appointment. For instance, if you want to create 20-minute meeting times from 1:00pm until 3:00 pm, enter the number 20. Then, slick Go to create the slots.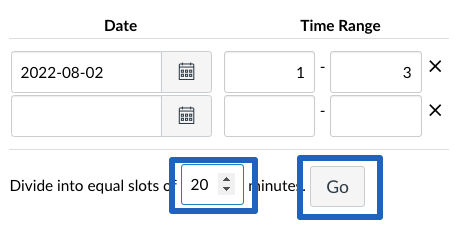 The appointment slots will then generate. As needed, you can modify or delete individual slots
10. Select any additional options:
Limit each time slot to ___ users: Select this option to only limit how many students can sign up for an individual appointment slot. For example, select the box and type 1 in the limit field if you only want a single student to be able to book that time slot.
Allow students to see who has signed up for time slots that are still available: Select this option to allow students to see other student names (and comments) who have signed up for appointment slots.
Limit participants to attend __ appointments: Select this option to restrict how many appointment slots a student can sign up for.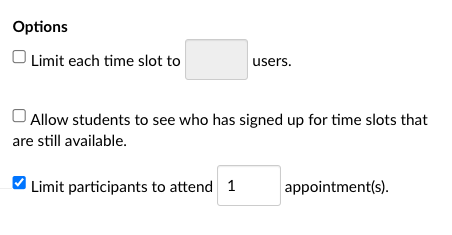 11. Add any instructions or information for students in the Details section. Then, click Publish to create the appointment slots.

12. The appointments will then appear on the calendar for students to sign up for: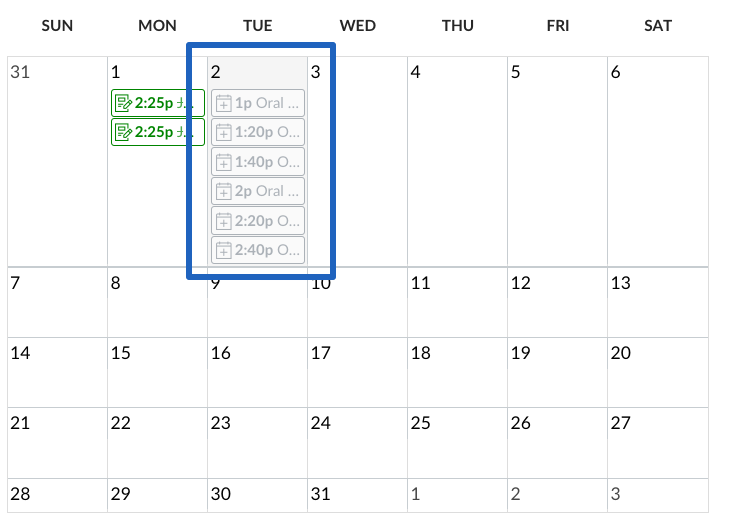 Once you have created the appointments, you can view and edit them through these steps:
1. From the Calendar tab of the general navigation menu, find and click on one of the appointment slots. Then, click Group Details.
2. Here, you can edit the name of the appointments, add additional time slots, and modify the location or options.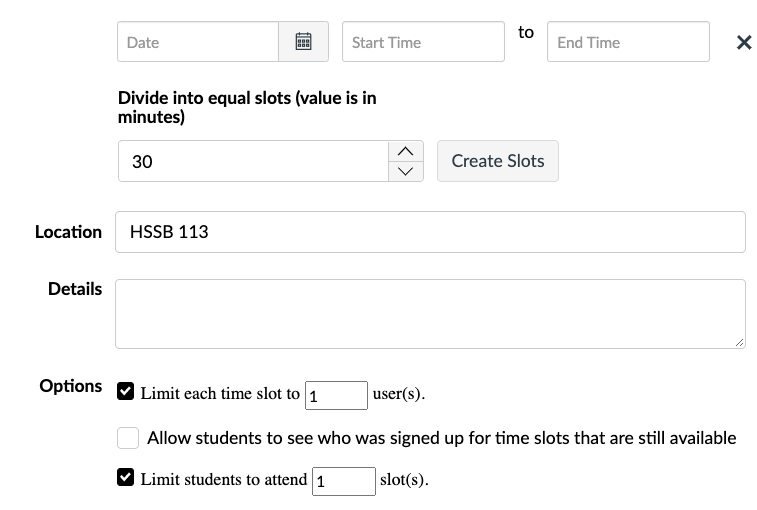 3. Scroll to the bottom to view all appointments slots and the name of each student who has signed up for a time slot. Click Message Students to send a message to users who have signed up (or who have not signed up for an appointment).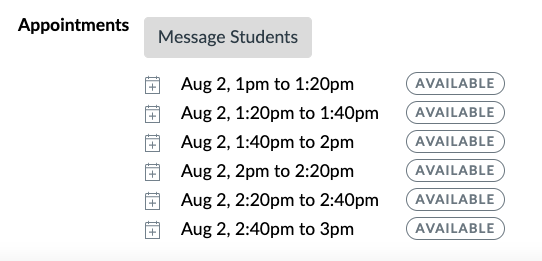 4. To delete an individual time slot, return to the Calendar tab and find and click on the appointment slot you wish to remove. Then, click Delete. You will be asked to confirm the deletion.