Google Assignments allow seamless integration of Google Drive with Canvas for submitting and grading assignments.
This article walks through how to:
Add Google Assignments to a Canvas Course

Grading and Returning Google Assignments

Self-Guided Resources on how to use Google Assignments
More Information about using
Google Assignments
can be found
here.
Here's how to add a Google Assignment to a Canvas course:
1. Log in to Canvas and navigate to your course site.
2. In the left-hand navigation, click Assignments. Then, click + Assignments.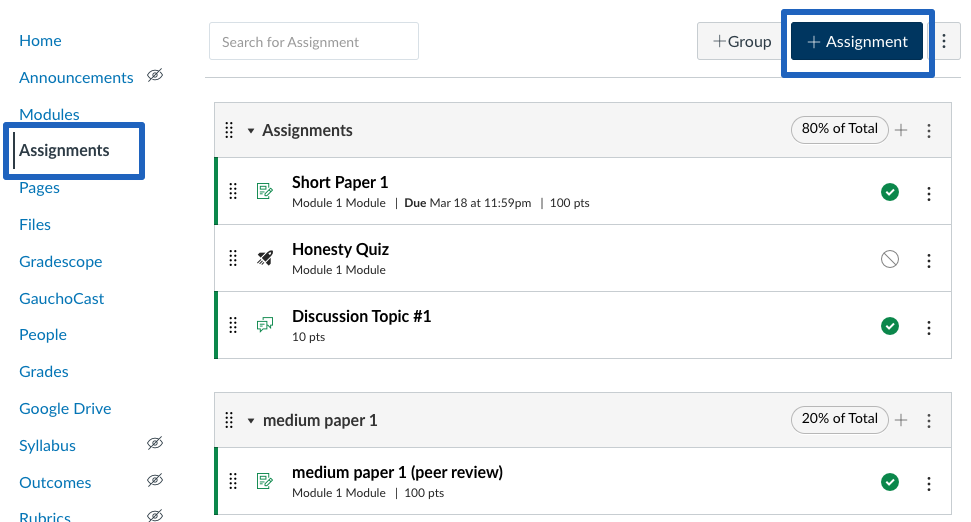 3. Enter your assignment name and overall points.
4. For Submission Type, select "External Tool" from the dropdown. Then click Find.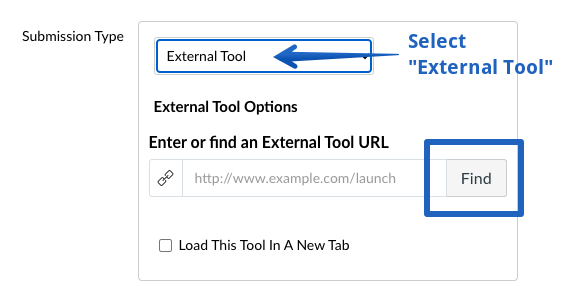 5. Select Google Assignments (LTI 1.3) from the list of external tools.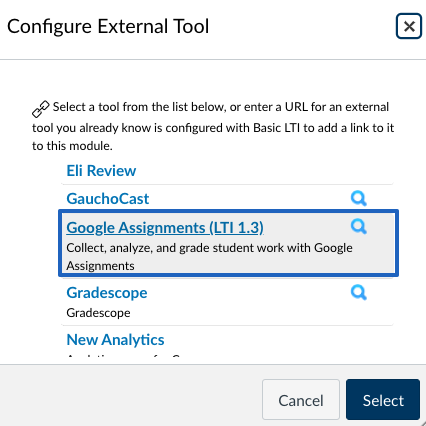 6. A dialog box will open. Sign in using your UCSB Google credentials.
7. Once logged in, click Link to link your account with Google Assignments.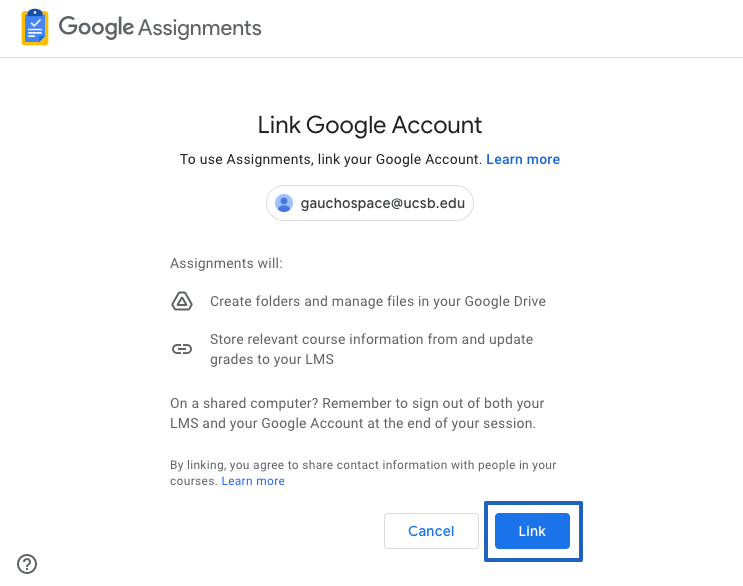 8. Adjust your desired Google assignment settings including: check plagiarism, template files, number of points, due date, and rubric. When ready, click Create.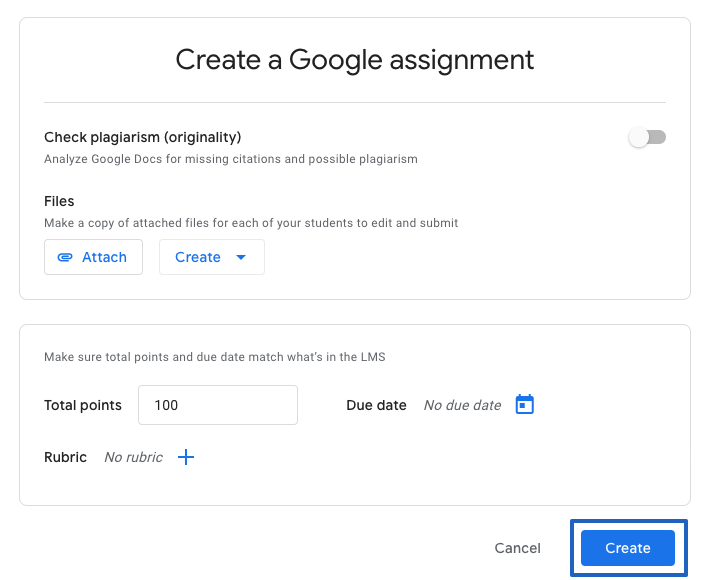 9. You will be redirected to the Configure External Tool window. click Select.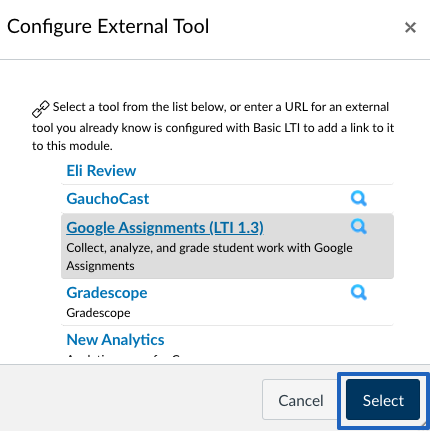 10. This will take you back to the Assignments page in Canvas. In the Submission Type subsection, you should see a pre-filled URL in the URL bar. It is also recommended that you select Load this Tool in a New Tab.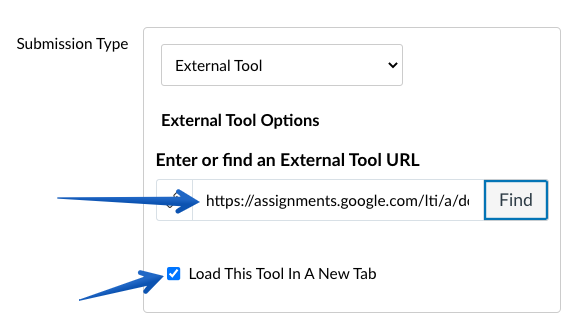 11. Scroll down to the end of the page in Canvas, and click Save and Publish. Your Canvas assignment is now linked with Google Assignments. When students click the link in Canvas, they will be prompted to submit their assignment in Google Assignments.
You (and course TAs) can enter grades in the Google Assignments grading tool. Grades will sync automatically to the Canvas gradebook once the assignment is returned to the student. Here's how to enter grades and return a Google assignment:
1. From the Assignments tab, click on the Google Assignment you want to grade.
2. This will open up the external Google Assignment page. Here, you can (optionally) update Google Assignment Settings including the total points, due date, or add a rubric. Click on a submission to grade.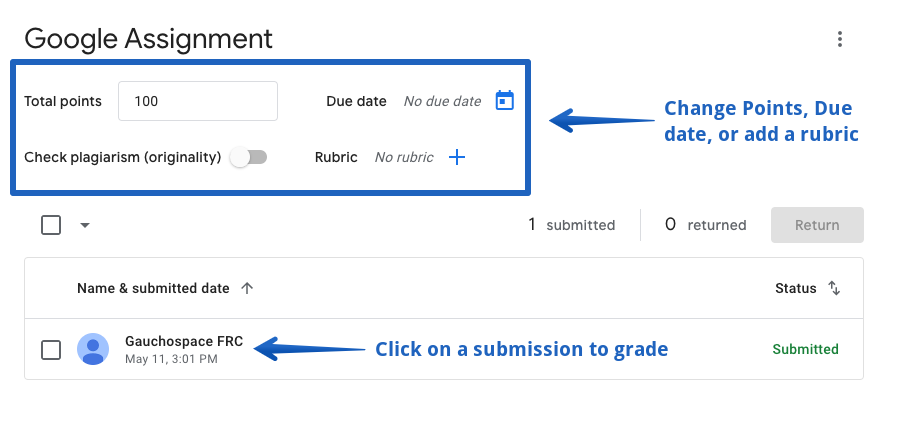 3. Enter the grade and any feedback on the right hand side. Click the ">" arrow at the top to move to the next student's assignment.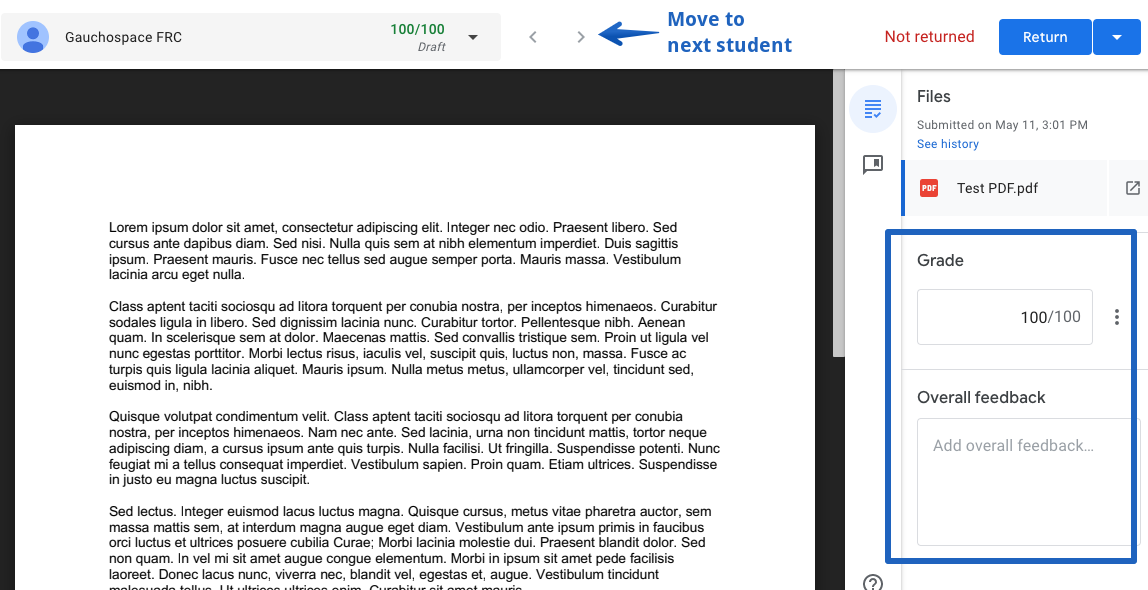 Note: If you are grading with a rubric, the rubric will then be shown on the right side of the assignment. The levels for each criterion can then be selected and the points will be added up at the top. If desired, you can modify a student's grade by changing the student's Grade. More information can be found here: Grade with a Rubric.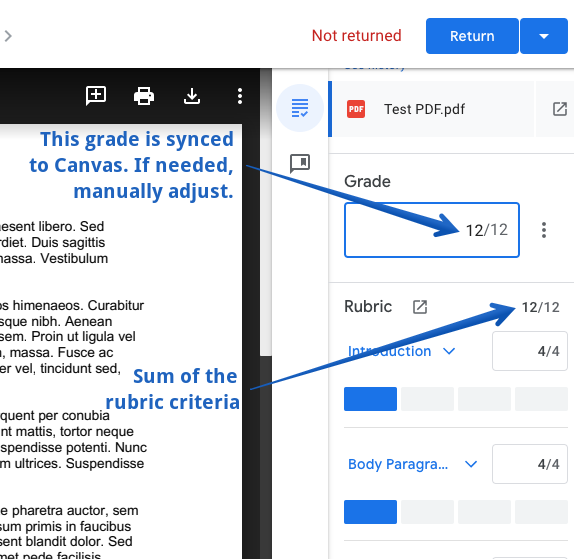 4. Grades will sync to the Canvas gradebook once you return the assignment to students. There are two ways to return an assignment to students after grading:
Google Assignment homepage:

Check the box next to the student(s) you wish to return, and click Return.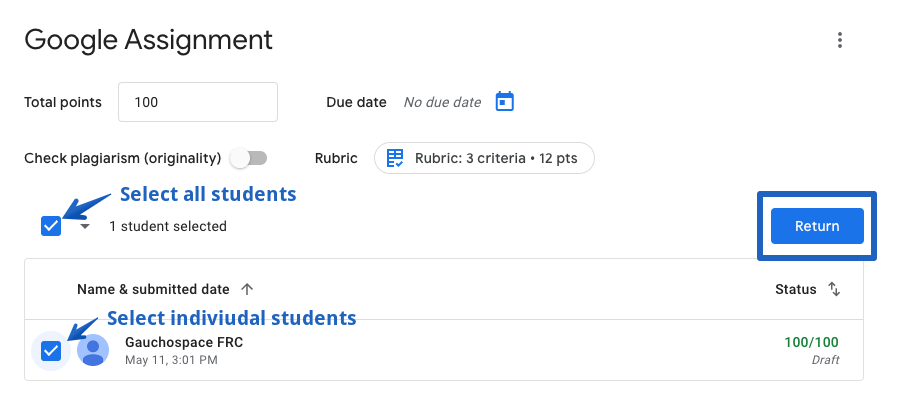 Individual Assignment Page:

After grading the individual student assignments, click Return in the top right hand corner.

Google offers a wide-range of self-guided resources to help you get started: