This article will go over Canvas User settings and preferences. These can be found by clicking Account in the Global Navigation Menu.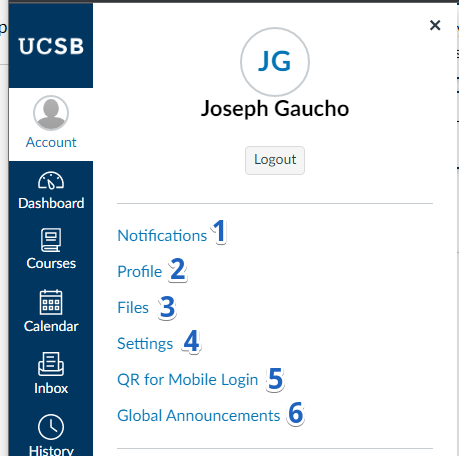 In the Notifications tab you will see the various notifications that are available to be notified about. To set your specific notification settings for each notification type click on the calendar or bell icon below the notification method you would like to change.
You can set your notification settings for each notification option to the following:
Notify immediately
Daily summary: Notifications are sent around 6pm
Weekly summary: Notifications are sent between 11pm Friday and 1am Saturday
Notifications off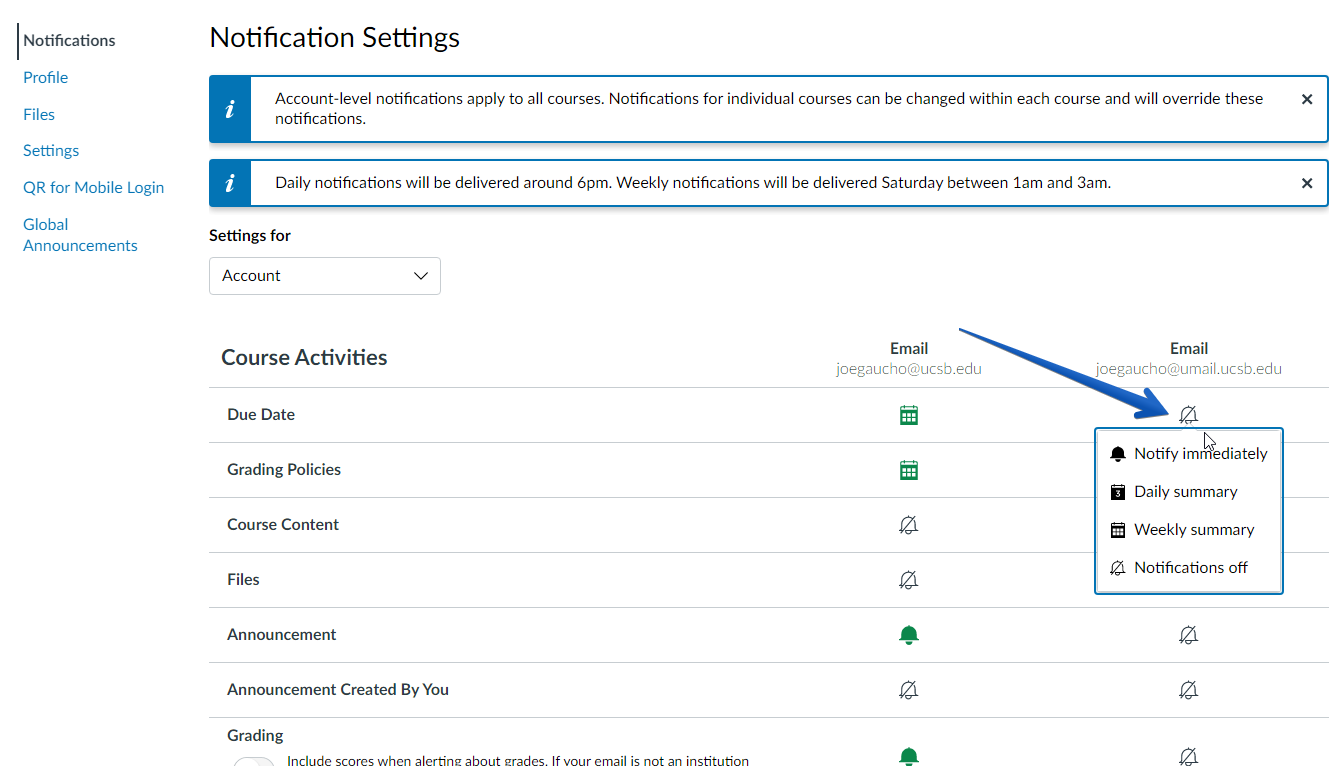 Mouse over a particular Notification to view more details about it.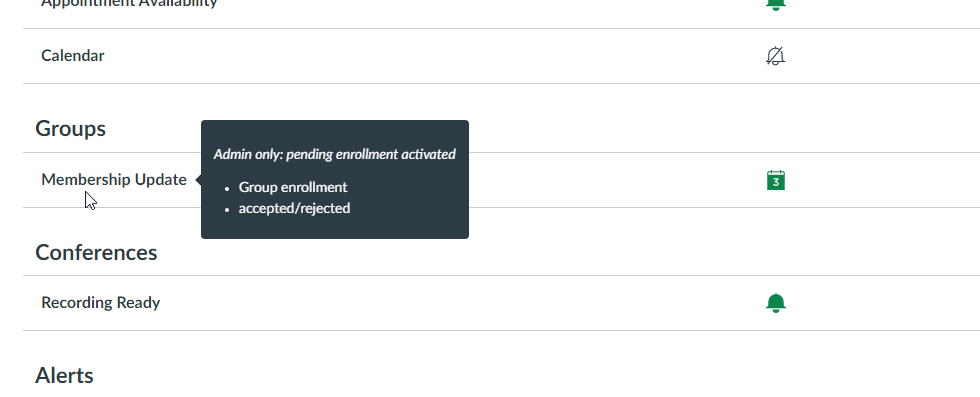 Included below are the default notifications set in your account.
Notification

Frequenc

y

Due Date

Weekly Summary

Grading Policies

Weekly Summary

Course Content

No Notifications

Files

No Notifications

Announcement

Immediately

Announcement Created By You

No Notifications

Grading

Immediately

Invitation

Immediately

All Submissions

No Notifications

Late Grading

Daily Summary

Submission Comment

Daily Summary

Blueprint Sync

Daily Summary

New Topic

No Notifications

New Reply

Daily Summary

New Mention

Immediately

Added To Conversation

Immediately

Conversation Message

Immediately

Conversations Created By Me

No Notifications

Student Appointment Signups

No Notifications

Appointment Signups

Immediately

Appointment Cancellations

Immediately

Appointment Availability

Immediately

Calendar

No Notifications

Membership Update

Daily Summary

Recording Ready

Immediately

Administrative Notifications

Daily Summary

Content Link Error

Daily Summary

Global Announcements

Immediately
The profile tab also you to add personal details to your account including profile picture, biographical and personal information to be shared with other course members, and external links to personal websites and blogs. To edit this information from the Profile tab, click
Edit Profile
in the top right corner.

1. To edit or change your profile picture mouse over the profile picture in the top left and click on the pencil icon and follow the steps to upload or edit your profile picture.
2. In the Biography section you can enter personal information that you would like to share with other course members.
3. Input any external links to personal websites you would like other course members to access.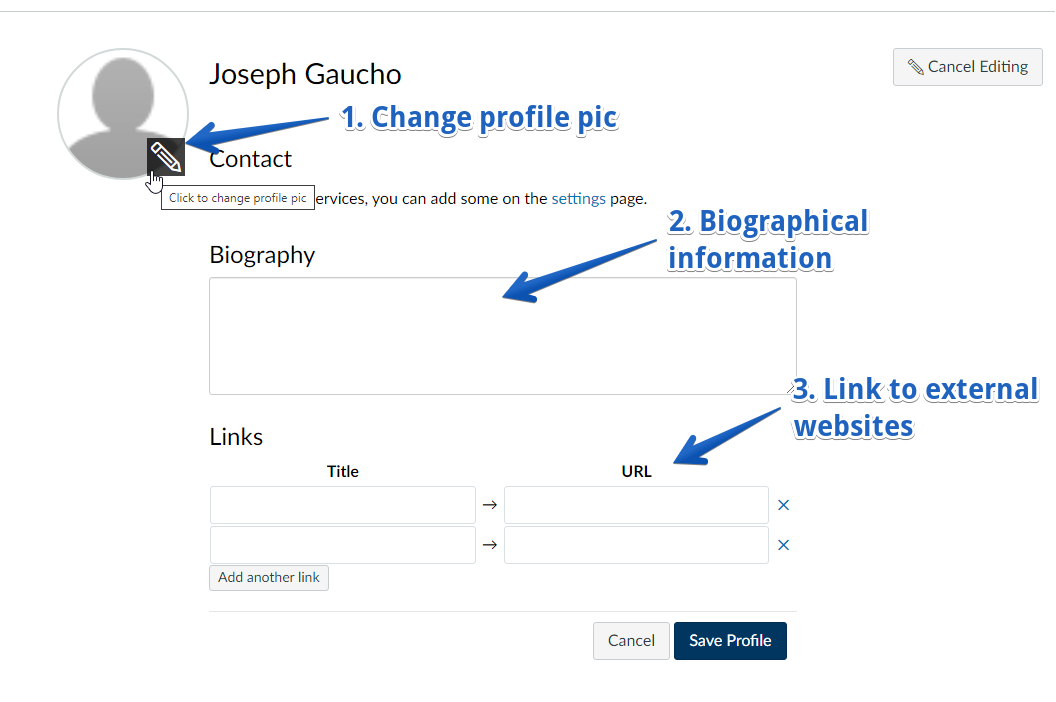 The Files tab is where you can view
profile pictures, uploaded assignment submissions, and other files uploaded to your personal Canvas file storage area. Folders for each class can be found on the left side and the subfolders nested beneath them.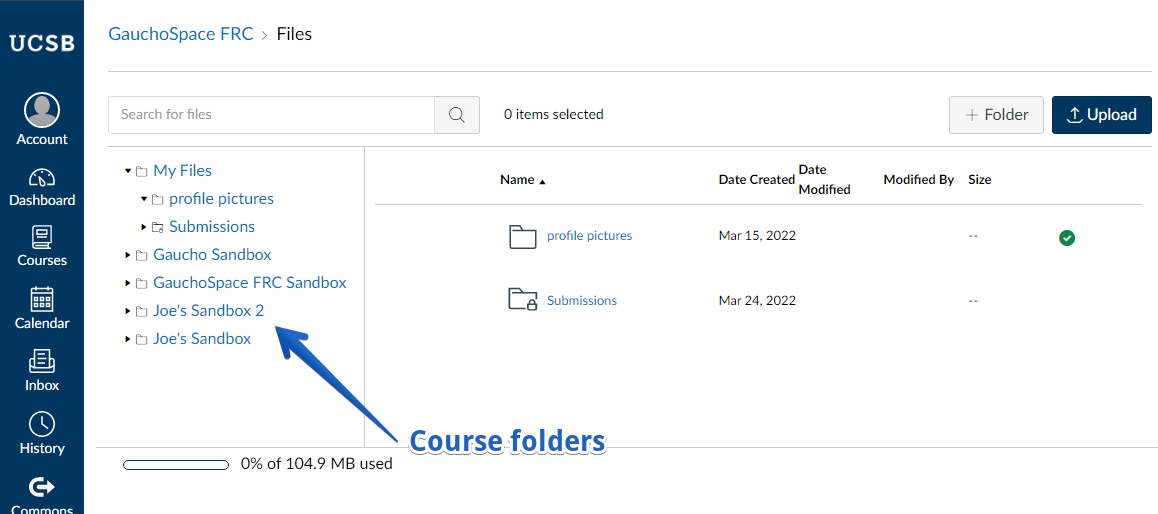 Most settings in your Canvas account are populated by the UCSB Identity Management System these include first and last name, pronouns, and default email. On the right side under Email Addresses, you can add additional email addresses to your account which you can set different notifications for in the Notifications tab. To edit your Language preference and change your Time Zone settings

1. Enter the email address you would like to add to your account, then click on "Register Email", the added email will then be sent a confirmation email which will need to be confirmed for messages to be sent to the added email address.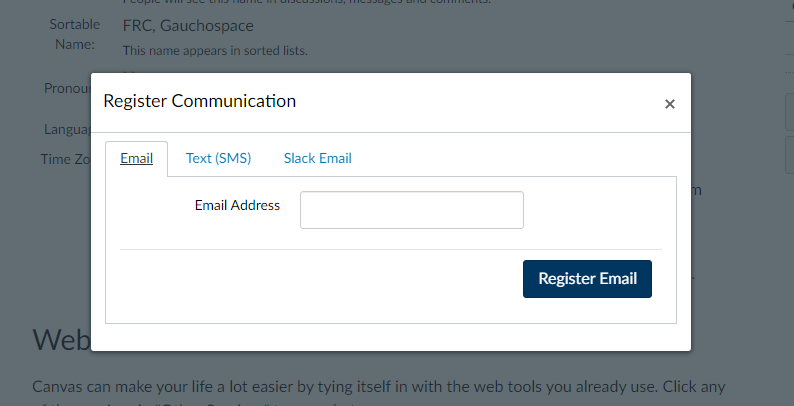 2. Use the drop-down menus to change Language and Time Zone settings.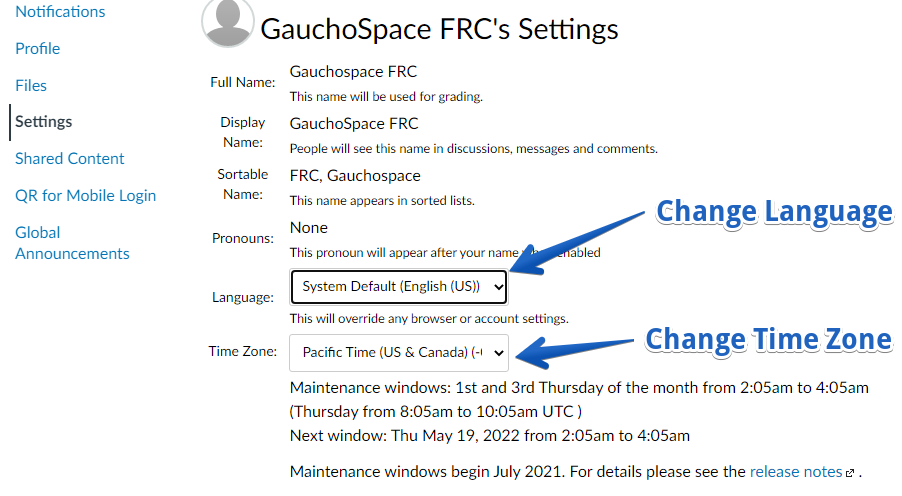 To easily set up the Canvas Mobile app with your account, click the
QR for Mobile Login
tab. This will generate a QR code to login to the Canvas Mobile app. After clicking on the tab you will be shown a confirmation pop-up alerting you that you will be shown a QR code which will anyone with the code will get access to your account. When ready, click
Proceed
to access the code.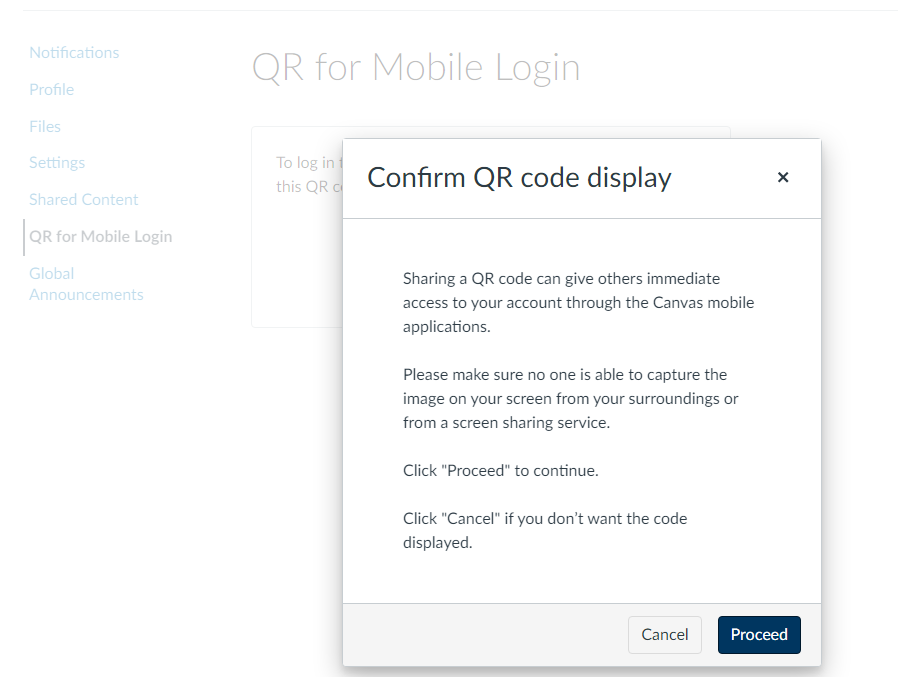 Open the Canvas Mobile App on your Mobile Device and use the "QR Login" option from the Canvas Mobile app which ask to access your camera which will be needed for your mobile device to view the QR code.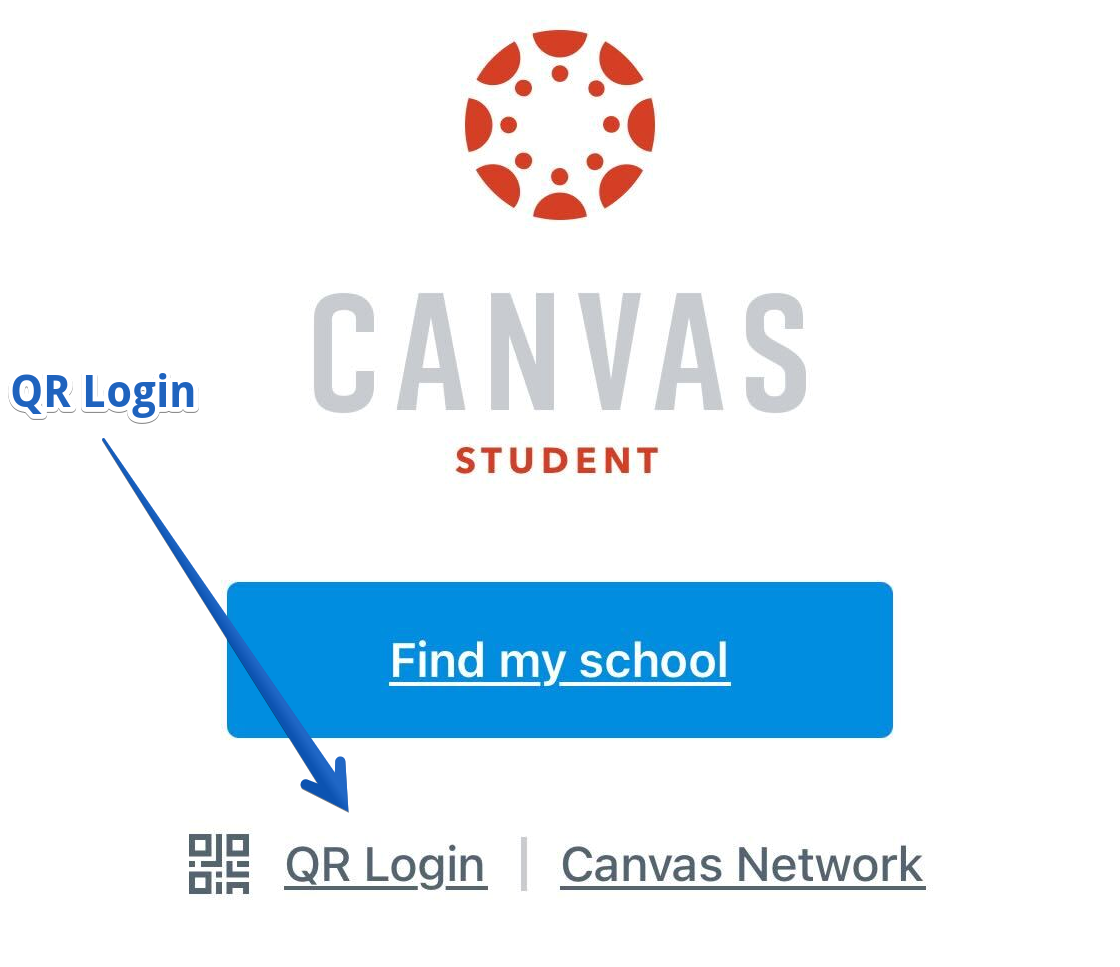 Point the camera at the QR code shown on the screen which will log you into the mobile app on your mobile device.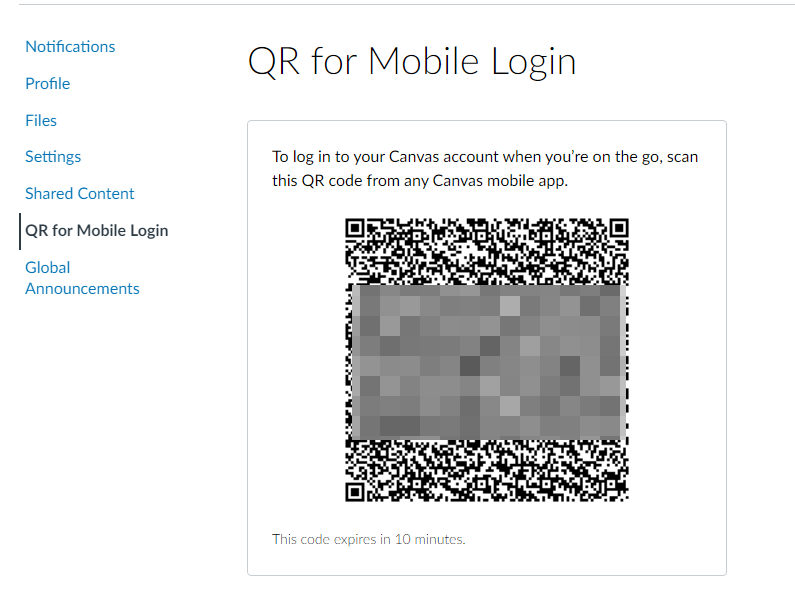 You can view current and recent global announcements on the Global Announcements page. Global announcements are announcements that are school-wide and pertain to all UCSB users. The Global Announcements page displays global announcements that are currently active, announcements that you dismissed from the dashboard, and announcements from the past four months.
There a five announcement types, Information, Error, Warning, Question, and Calendar.

- Information - A blue announcement with an
i
icon indicates an information announcement type.

- Error - A red announcement with an exclamation icon indicates an error announcement type.

- Warning - An orange announcement with an exclamation icon indicates a warning announcement type.

- Question - A blue announcement with a question icon indicates a question announcement type.

- Calendar - A blue announcement with a calendar icon indicates a calendar announcement type.
Global Announcements are set to be shown from a start date and time until a set end date and time. Global Announcement that are currently active will be shown under the "Current" tab.

Global Announcements that are no longer active but are within the last four months will be shown under "Recent" tab, this is also where announcements you have dismissed can be seen.