iClicker Cloud allows instructors to ask students questions and get real-time responses during class. It can promote student engagement, help you adapt instruction, ensure that you're hearing from all students, and can make class more fun. Features include multiple choice questions with histograms, text entry with word clouds, anonymous polling for sensitive questions, and taking attendance. UCSB has an institutional license for iClicker cloud, making it free for students and instructors to use on their mobile devices or computers.
Downloading the iClicker Cloud Application
1. Download the iClicker Cloud desktop application for either Windows or Mac operating systems.
Windows: Requires a 64-bit processor running

Windows 10

or newer with .NET 4.5 or higher.
Mac:

MacOS High Sierra (10.13)

or newer.
Chromebook:

The iClicker Cloud software is

not

compatible with Google Chromebook.
2. Installation:
Installing on Windows

: open the downloaded MSI file and follow the setup directions to install the iClicker Cloud application on your computer. You will require administrator rights to complete the installation.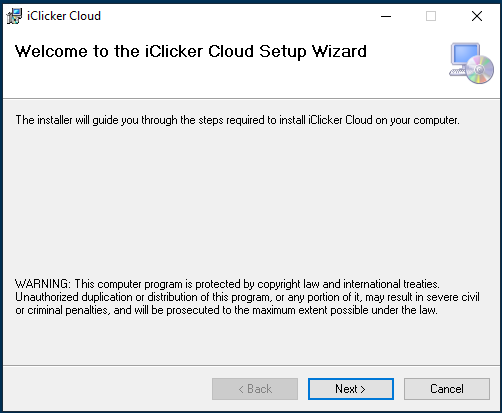 Installing on Mac

: open the downloaded .dmg file and then drag the iClicker Cloud icon over to your Applications folder.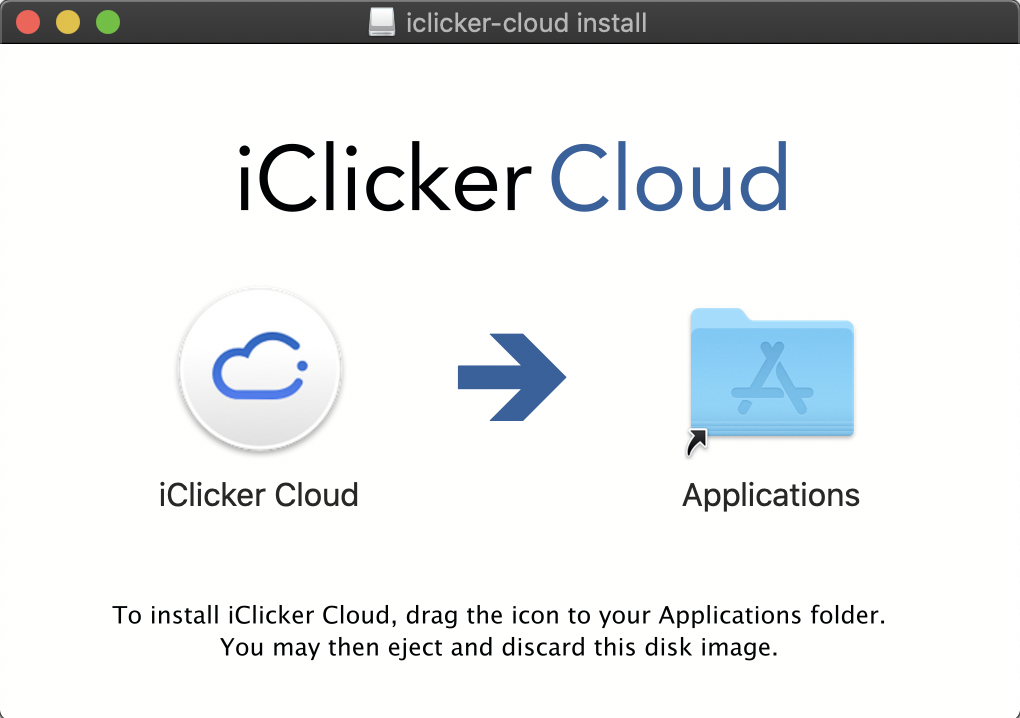 Creating an iClicker Cloud Instructor Account
Launch the iClicker Cloud application and select "Create Account."

Type in "UC Santa Barbara" in the Search and Select Institution box.

Fill out the form:

Under "Primary Discipline" select a discipline that most closely matches your own. If you cannot find one, select "Other."

Under "Email" enter your UCSB email address.

When you are done, click "Create" and sign in to you iClicker Cloud account.
Creating an iClicker Cloud Course
Once you are logged into the iClicker Course Dashboard, create a course profile by clicking the "+ New Course" button.

Under "Tell us about your course," select "Full Course" (Recommended). Site licenses are provided by UCSB. If you would like to use iClicker solely for attendance purposes, you may select "Attendance Only."

Continue to fill out the form, including: your course name, institution ("University of California Santa Barbara"), discipline (closest match), course start/end dates, and the preferred enrollment method. The other items are optional.

Click on "Create" when you are done. Repeat these steps for each course you are teaching. The following instructions will link your iClicker courses to GauchoSpace.
Integrating iClicker Cloud with GauchoSpace
On the iClicker Course Dashboard, find the course you wish to link to GauchoSpace and click on three dots. Under the additional options menu, select "Settings..."

In the Course Settings, navigate to the "Integrations" tab. IF YOU ARE STILL ON GAUCHOSPACE, select "Switch to LTI Integration."

Once you've changed the "Canvas Integration" option to "LTI-Based Gradebook Integration," toggle the "LTI-based Gradebook Integration" option to ON.

Click the "Copy Link" button located under the "Course-specific LTI link" section and then click "Save".

In a new browser window, navigate to your GauchoSpace course page.

Turn editing mode ON.

Navigate to a specified section and click the "Add an activity or resource" link.

Select "External Tool," from the list and then click "Add."

In the following page, enter in an "Activity Name" (recommended: "iClicker Cloud" or similar) and paste your "Course-specific LTI link" (the URL copied from your iClicker Cloud course settings). Lastly, click "Save and return to course."
You are now prepared to synchronize grades from iClicker Cloud to GauchoSpace. Additionally, you may direct your students to the iClicker Tool Link so they can automatically enroll themselves into your iClicker course. Note: For student instructions on how to register for iClicker Cloud and enroll in an iClicker course, click here.
Setting up iClicker Cloud Grading and Attendance
On the iClicker Course Dashboard, navigate to your course and click on three dots. Under the additional options menu, select "Settings..."

In the Course Settings page, navigate to the "Polling" tab. Here you can adjust how points are rewarded among other poll settings. Note: the default settings for "Sharing" are recommended.
Scoring is broken down into two categories: "Session Participation" (points for participating, regardless of correctness) and "Session Performance" (points for correct answers). Note: Although there is a seperate grading option specific for "Attendance," Instructional Development recommends that instructors assign attendance points using the "Session Participation" points category.

Lastly, you may adjust how the timer in the iClicker Toolbar operates.
Starting an iClicker Cloud Polling Session
Launch the iClicker Cloud application and log into your iClicker Cloud account.

Hover over your course and select "Start Class" to initiate an iClicker Cloud polling session.

The iClicker Toolbar will launch and hover over your open windows. You may drag and place the iClicker Toolbar anywhere on your screen.

When you are ready to begin a Poll, click on the checkmark icon, .

Using the drop down menu, you will have the option to choose a desired question type for the following polling session. The different question types are detailed below:

Multiple Choice

: Students are able to select a single letter response A through E. While students can only select one response, you can select multiple responses as correct when grading.

Multiple Answer

: Multiple Answer polls require students to evaluate the correctness or incorrectness of each possible response instead of simply hunting for one 'best' answer. Students are able to select multiple letter responses A through E.

Short Answer

: Short Answer allows you to pose open-ended questions. Students using iClicker Reef can respond with up to 140 characters, including punctuation and most symbols.

Numeric

: Numeric questions allow students to respond with open-ended numeric values and support scientific notation and exponents.

Target

: This question type allows instructors to ask questions by sending an image to students (e.g., an image on a lecture slide, an image in your web browser, or even a video you've paused). Students answer the target question by clicking or tapping on the image using their laptops or smart devices.
Note: For more detailed information on the different question types, examples on how they can be used, and how to mark correct answers, please visit this iClicker Documentation.

Click the green "play" button, , to open the polling session to all students. Note: Polling questions are not created through iClicker. They must be prepared and incorporated into your lecture/presentation slides. Once you initiate a poll, a screenshot of your display will be captured by iClicker and sent to the student's devices, where they will enter their responses.
A timer will appear along with the number of responses received. You may choose to open the "Results Panel," , which will display the distribution of responses in real-time. You may also open the "Results Panel" after the polling session has closed. When you are done with the polling question, click on the red "stop" button, .

Repeat the process for every iClicker/polling question you have prepared in your lecture slides.

When you are done with the current polling session, you may end it by clicking on the red "X" icon, , on the iClicker Cloud Toolbar. You will be prompted to either "End Class," or "End Class with Exit Poll." For more information on "Exit Polls," refer to this iClicker documentation.
Syncing iClicker Cloud Grades to GauchoSpace
The LTI integration allows iClicker Cloud grades to be sent to GauchoSpace as one aggregate percentage in a single gradebook column. Note: By default, iClicker grades are worth 100 points in the GauchoSpace gradebook. You can adjust the weighted percentage of the iClicker column in the GauchoSpace gradebook.
Log into your online iClicker Cloud Instructor account here. Alternatively, you may click on "View Course Online" through the iClicker Cloud application.

Navigate to the "Gradebook" tab.

Select "Sync Grades" in the upper-right corner to sync iClicker Cloud scores to GauchoSpace.

Only the students who have registered their iClicker Cloud ("REEF") accounts to your GauchoSpace course will have their scores synchronized. Those students will be indicated with a green dot in the "Grade Sync" column.

Clicking "Sync Grades" will send an email reminder to students who have not yet linked their iClicker Cloud account with your GauchoSpace course.
For additional assistance, write to us at help@id.ucsb.edu.