Note: Gradescope covers the subject in this video.
When submitting homework for a variable-length assignment you must map the homework answer page(s) to their applicable question. Not doing this will result in an error visible to the instructor that looks like this:
When the instructor clicks on "managing submissions", they can see that the student uploaded a PDF but they cannot grade it.
Instructors: If the error appears for only a handful of students you can assign pages on their behalf by clicking on their name on the Manage Submissions page and clicking Reselect Pages, or you can just flip to the first page of their PDF from the grading interface by hovering over the "this student did not select any pages" error message and clicking the arrow button or by using the "k" hotkey on your keyboard.
Students: To avoid this you must tag specific pages to correspond with questions in the assignment within Gradescope.
Once your homework is uploaded to Gradescope your screen should look something like this: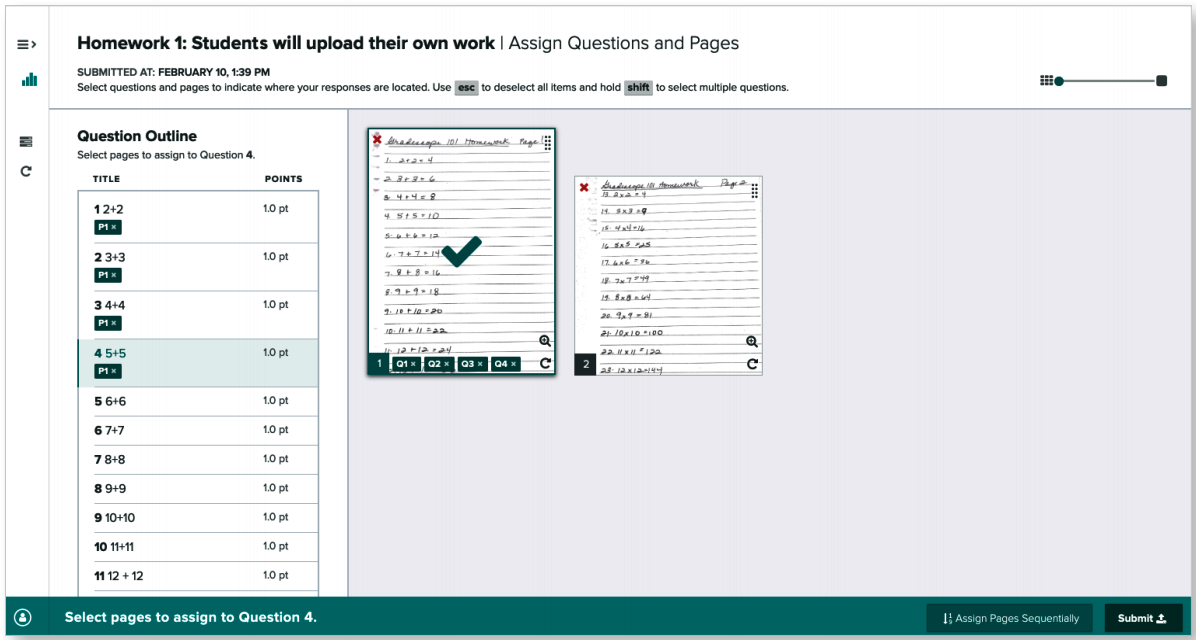 Select a question by clicking on it under the Outline. In this example question 4 is highlighted.
The bar at the bottom of the page will ask you to select pages to assign to Question 4. Click on the appropriate page(s) that depict your answers for that question.
Click all questions and attribute homework pages to them until all of the questions have been mapped to your homework answers.
Click Submit in the lower right.