Alternatives to the Panopto Recorder
Panopto and GauchoCast are the recommended services to use for creating asynchronous lectures. However, if you're experiencing compatibility issues running Panopto on your machine or if you would rather use a different application, below are some alternative recording options in lieu of the Panopto Recorder. If you are able to use Panopto successfully, we recommend that you continue to use that workflow.
Zoom Application
You may already be familiar with Zoom if you've used it for live synchronous lectures or discussion sections, but you could also use Zoom to record your screen and microphone audio.
Launch Zoom on your computer and initiate a new meeting with yourself as the only participant: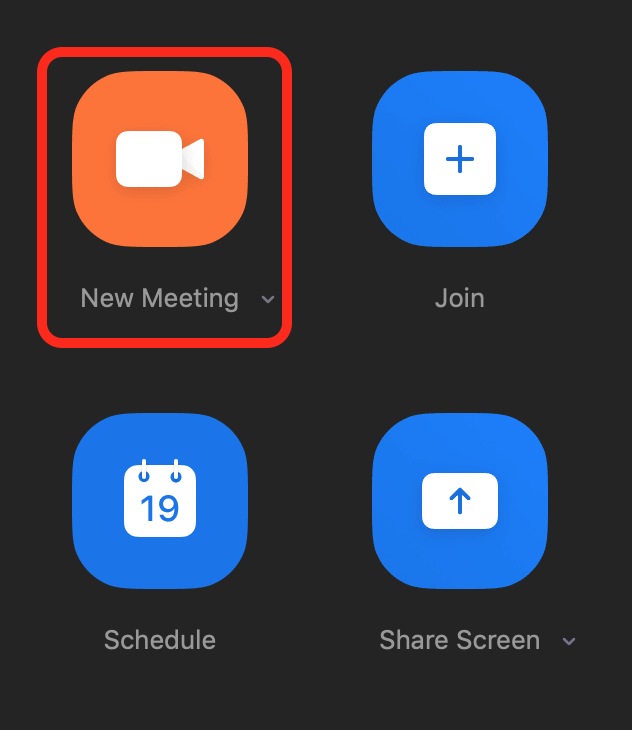 Start the recording right away. You don't want to forget and then realize half-way through a lecture that you weren't recording. If you have multiple recording options, select the Local Recording (record on this computer):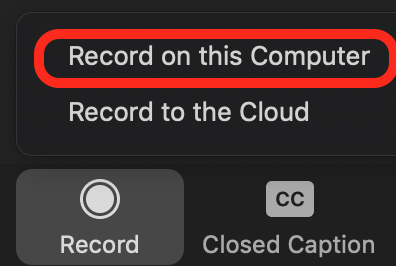 Depending on the material you are presenting, you may have different video configuration options:
Talking Head only
Make sure Audio and Video are unmuted:

Final product will be a full-screen video of you speaking.
Screen Share only
Make sure audio is unmuted, turn off video, and screen share your window/slides:

Final product will be a full-screen video of your shared screen content with you speaking over it.
Talking Head + Screen Share (picture-in-picture)
Have both audio and video enabled plus screen share your window/slides:

Final product will be a video of your shared screen (full screen) with your webcam feed (small window) pinned in the top right-hand corner.
When you are done recording your lecture, end the meeting. Zoom will process an MP4 video file at the conclusion of the meeting.

The file will be saved onto your computer's hard drive. Both Macs and PCs have a default file saving location that you can reference here.
Once you've obtained the MP4 file, you can manually upload it to GauchoCast. More information on uploading files here

.
Panopto Capture
Panopto Capture is an online version of the Panopto Recorder software. This is a useful alternative for users that have an incompatible operating system (such as Chromebooks or Linux) or experiencing technical issues running the dedicated desktop application. To use Panopto Capture, you must login in to your GauchoCast account. Note: Panopto Capture is only accessible through Chrome, Firefox, and Microsoft Edge web browsers.
Go to GauchoCast and login to your account. Click on Create and then Panopto Capture

.

The Panopto Capture window will open in a new browser tab. You will have to grant Panopto Capture access to your webcam, microphone, and screen in order to create recordings properly.

Set the microphone (1), video camera (2), and screen(3)

sources you would like to capture in your recording. You can do this by clicking on the source icons and then select or unselect the devices you would like to use.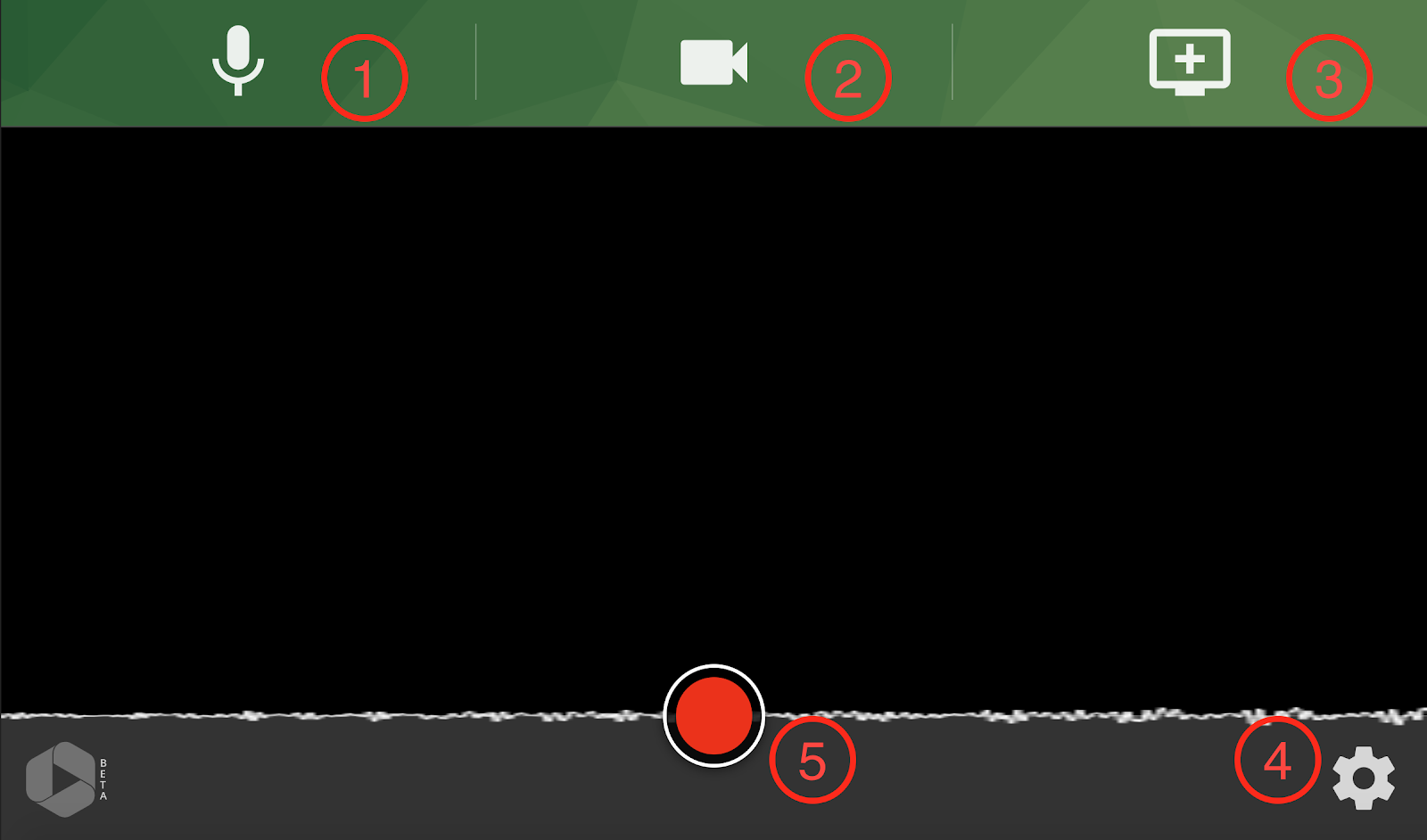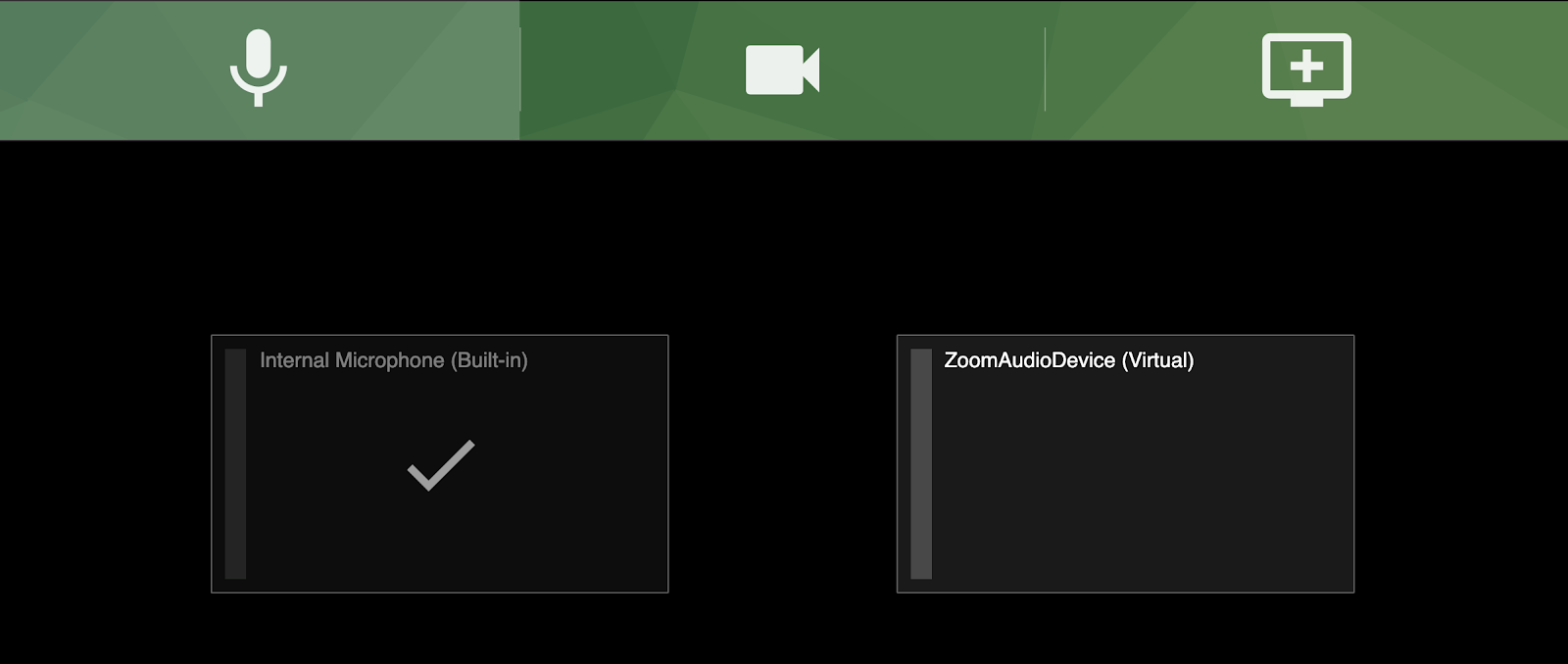 The Settings Menu

(4) w

ill give you additional stream output options. For most users, the default stream output ("capture all streams separately") should be adequate. "Combining all video streams into one," will give you the option to set either picture-in-picture or side-by-side viewing modes, however, this could cause difficulty with editing or removing streams after the recording has concluded.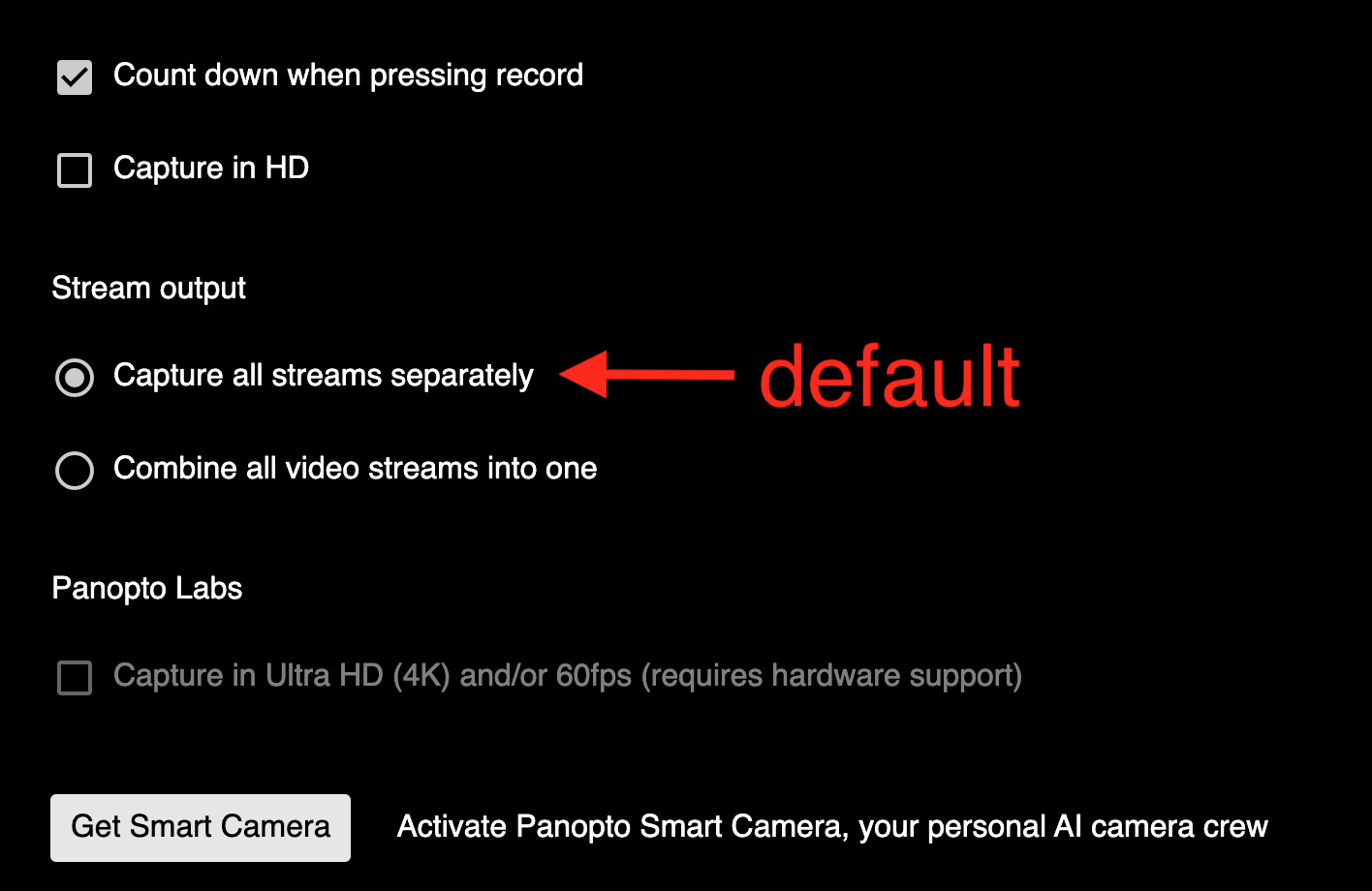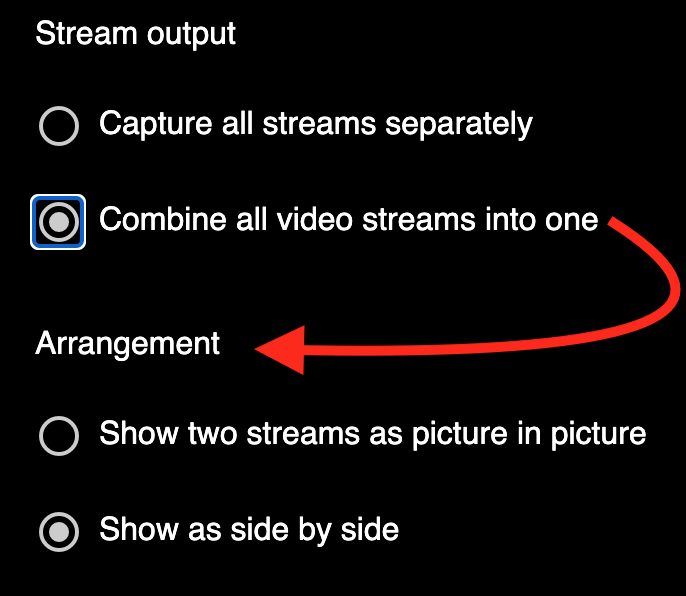 When you are ready to record, click the red Record button (5)

in the center. Just like Panopto, you should leave the webpage open or minimized and run in the background while you go through your slides and lecture materials.

When you are finished recording, click on the red Record button again and you will be taken to the uploading details page. Do not close out this page until the video has uploaded properly

.

On this page, you will have the option to name your video, select the destination folder (automatic default is: My Folder), edit the description, redo the session, or record a new session.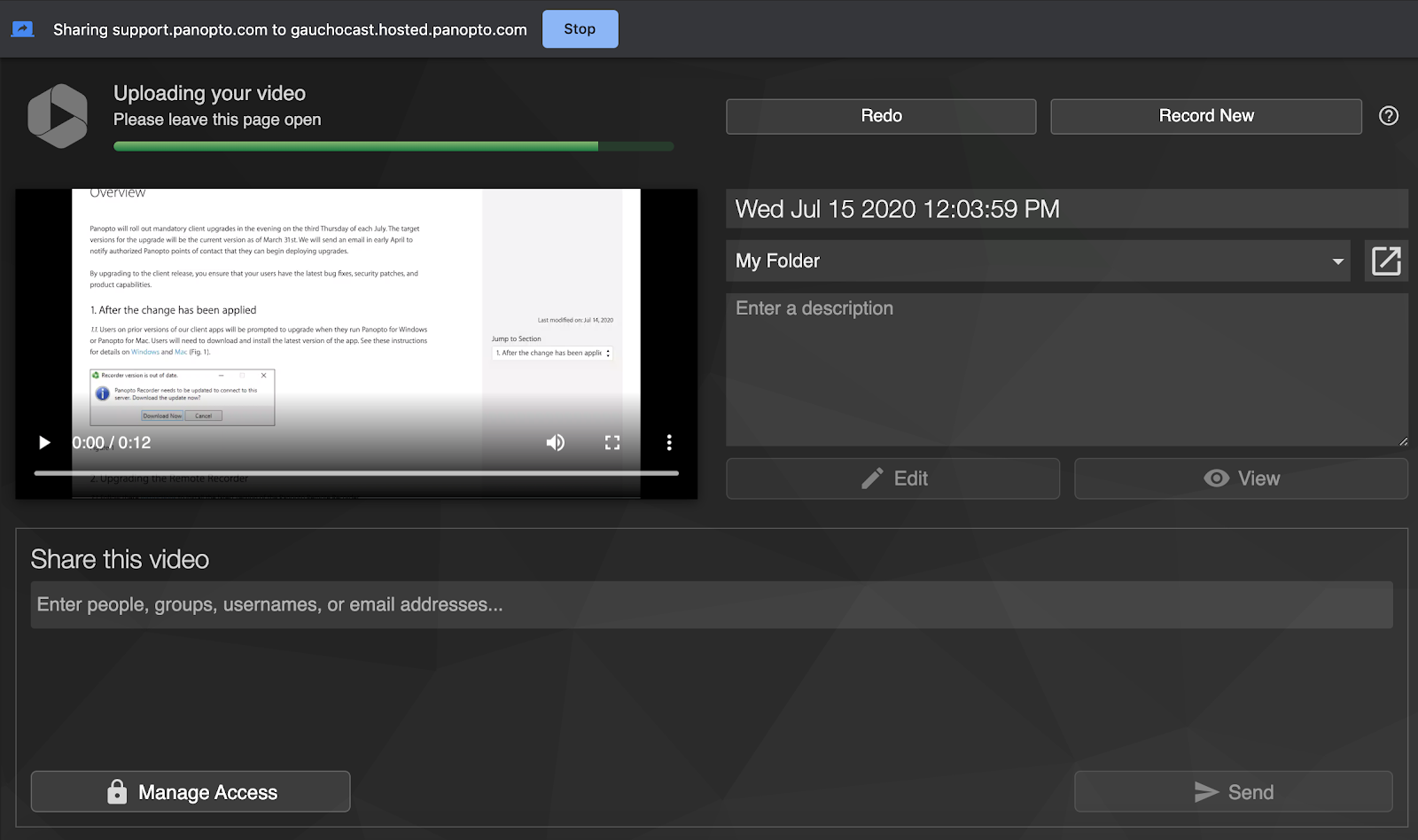 You may safely close out the Panopto Capture window once you've received the "Upload Complete" message.

Once the video is processed by Panopto, you'll be able to edit and view the final product within your GauchoCast folder.