For security reasons, it is strongly recommended that you include a password in order to join any meetings you are hosting. This can help prevent unwanted visitors from crashing and disrupting your meeting. Zoom allows you to embed the password into your meeting link, making it easy for your participants to join with one-click. This is relevant when posting a meeting in GauchoSpace, as the meeting link will include the password for your students. In order for this to work properly, you will need to verify that you have "Embed password in meeting link for one-click join" enabled in your Zoom settings.
Visit https://ucsb.zoom.us/

and sign-in using your UCSB Net ID.

Navigate to the "Settings" tab and remain in the "Meeting" section.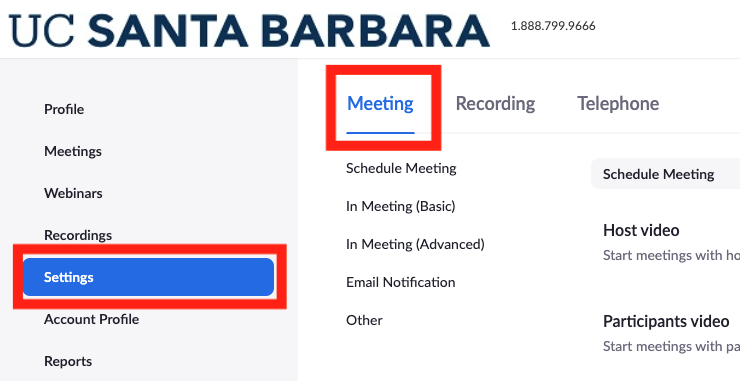 Under the "Security" section, you will find the "Embed password in meeting link for one-click join" option. Make sure it is clicked in.

Once clicked, future meeting links will include an embedded password.

This setting will allow students in GauchoSpace to click your meeting link and join without needing to input the password.
If you have any questions regarding one-click sign in, then please submit a help ticket by emailing id-help@ucsb.edu.