How do I use Breakout Rooms in a live meeting?
Once the breakout room function is enabled on your Zoom account, it will be available for you to use during your next meeting session. If you do not pre-assign participants into breakout rooms before your meetings, you will have to do it in situ. You will first have to designate the number of rooms you want available (up to 50 rooms) and then you'll have the option of either manually placing participants into rooms or have Zoom automatically distribute everyone evenly for you.
To use breakout rooms during a meeting:
As the host of a meeting, navigate to the Breakout Room

icon on the meeting controls bar.

In the next window, you will designate the number of rooms that will be created and choose whether you want to assign participants manually or automatically.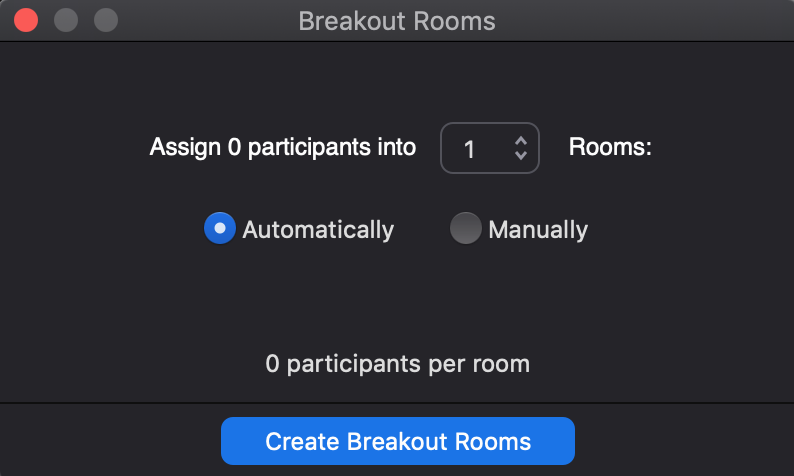 Once you click Create Breakout Rooms, a new window will pop up that will display the breakout room details at a glance. If you selected to automatically

assign participants, you will see your participants organized into their randomly assigned rooms.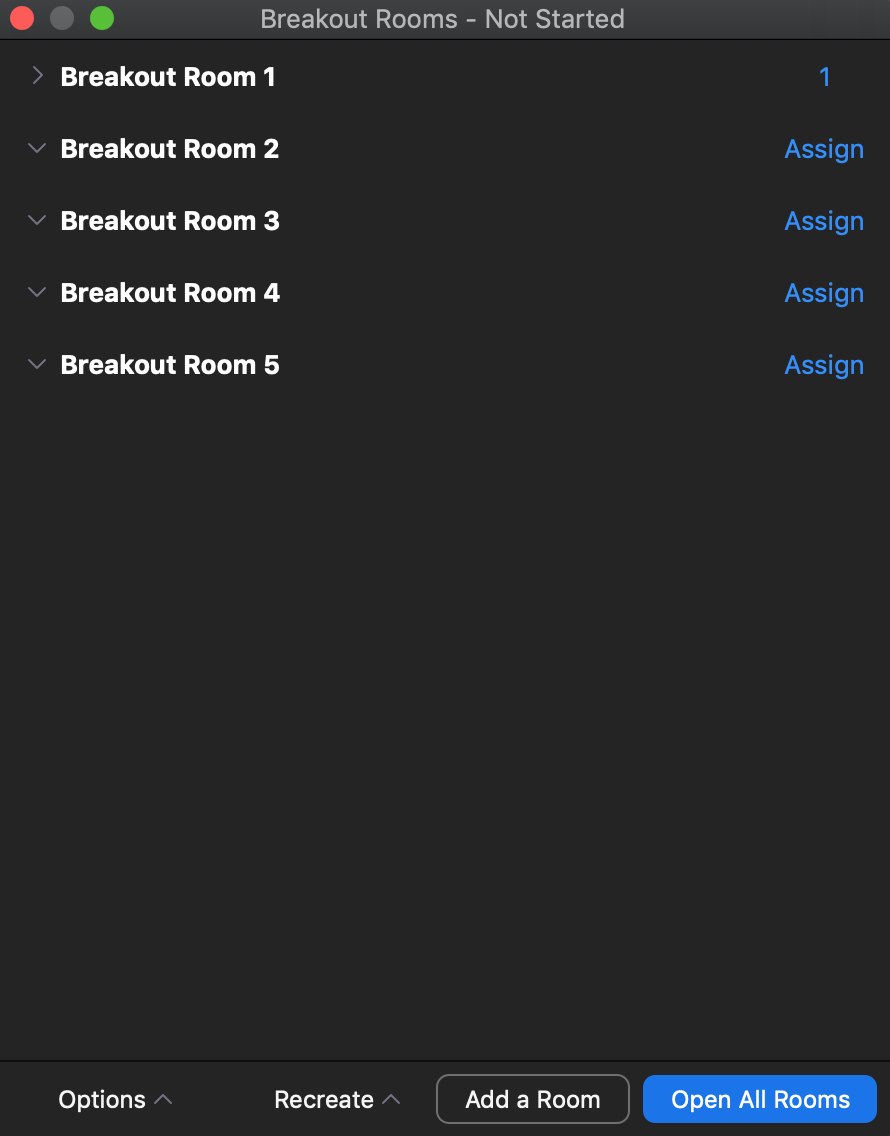 You can hover over existing rooms to modify room details. You can rename, delete, or add more rooms in the breakout room management window. You can also manually move participants around and place them into different rooms by hovering over their name and clicking Move To

.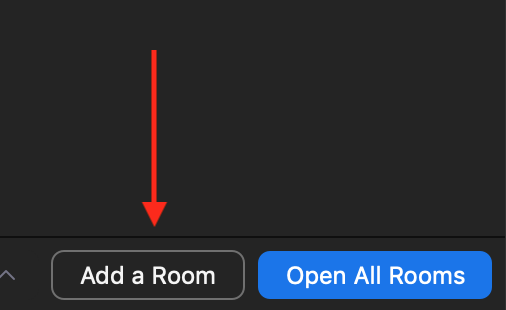 If you feel like you have made a mistake with the room assignments, or if it would be easier to start over, click on Recreate

at the bottom of the breakout management window. This will allow you to restructure your breakout room workflow.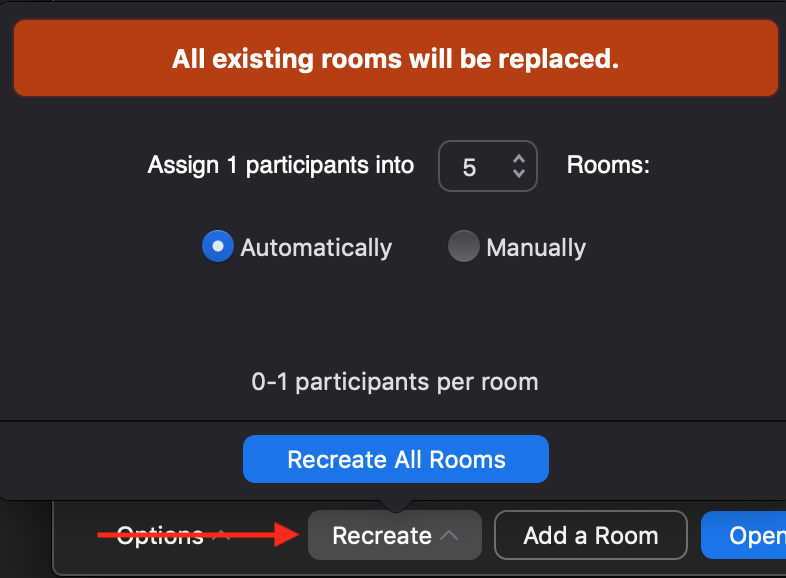 Before you Open All Rooms, click on the Options

tab to view some more breakout room settings you can adjust. You can set your breakouts to transition all participants automatically. You can decide to allow participants to return to the main Zoom session at their own will. You can set a timer so that all rooms end after a designated time. Lastly, you can also set a countdown timer, which will be displayed for all users when you end the breakout room sessions.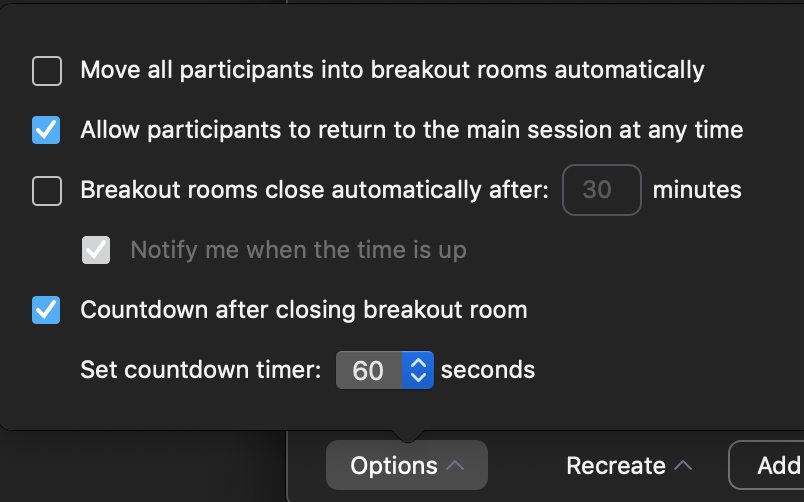 When you are satisfied and ready with the breakout room details, click on Open All Rooms. This will officially open all the sessions and place participants into their assigned rooms. Note: all participants will get a notice on their end stating that they are being placed into a breakout room.

Once all rooms are active, you will get a new Breakout Room management window that says In Progress

.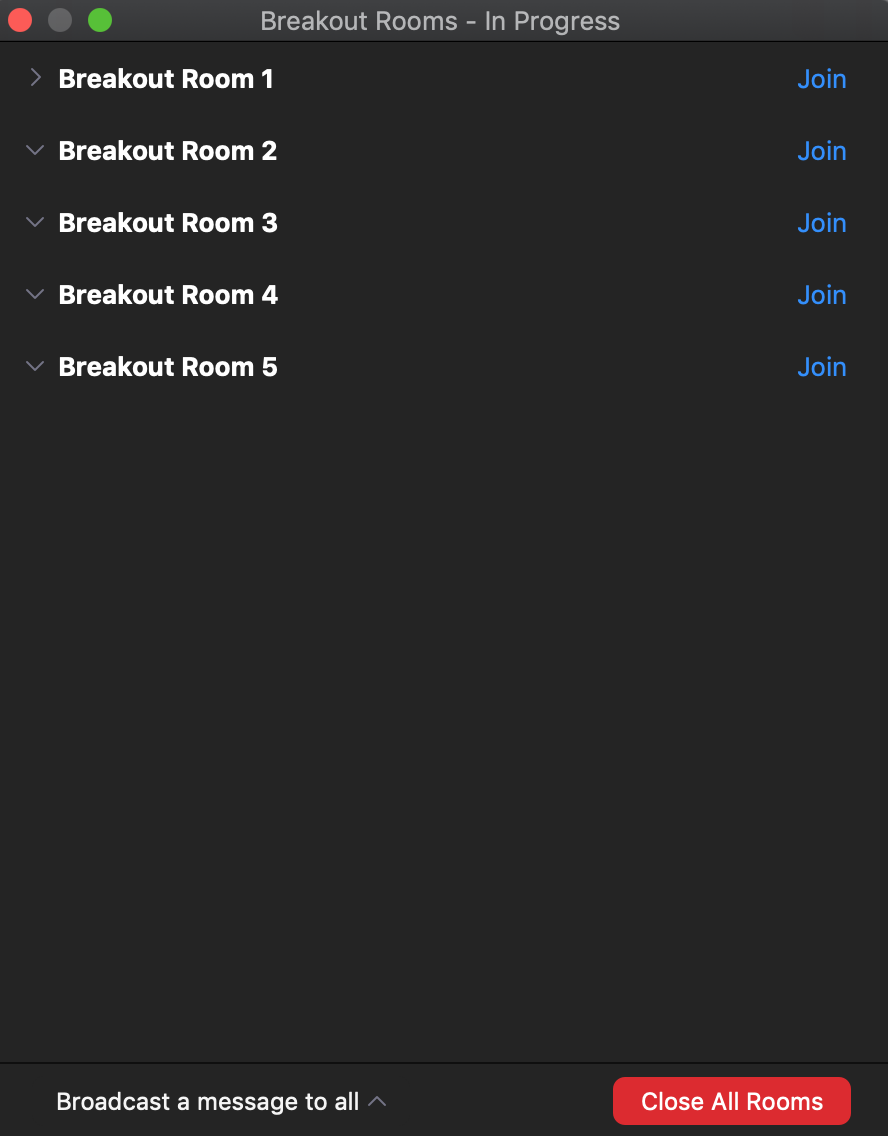 As the host, you can pop in and join any of the active breakout rooms. Hover over the room you want to enter and click on Join. You can also broadcast a message to all participants in their breakout rooms. Click on Broadcast a message to all

. This is a one way message from you, they will not be able to reply.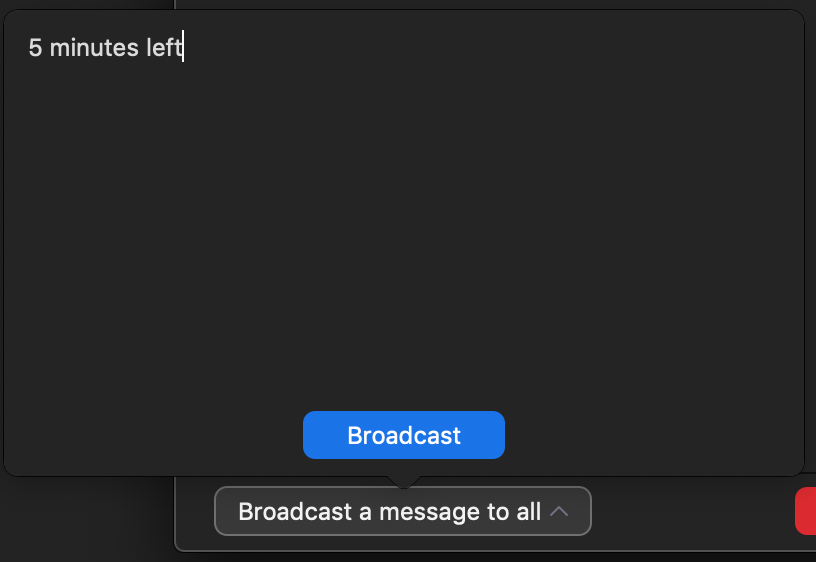 When you are done with the breakout room sessions, click on Close All Rooms. If you enabled

the countdown timer, all participants will see the timer at the top of their screens when you close the breakout rooms. Once closed, all participants will return to the main Zoom session.