You can download Zoom, as well as watch training videos and view guides specific to campus at the link below.
What is Zoom?
Zoom is a cloud-based platform for video and audio conferencing, mobile collaboration, and simple online meetings. Zoom's web-based conferencing uses high-quality video and audio and is accessible on MacOS, Windows, iOS and Android mobile devices.
Anyone in the world can join a Zoom meeting, but only a host can start/schedule meetings. Use your UCSBnetID and password to sign in to your host account.
Quick Start Guide: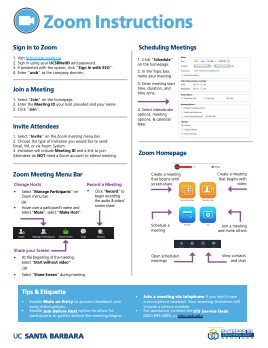 https://www.it.ucsb.edu/sites/default/files/images/ZoomInstructions.pdf