When a new employee starts that will be using an LSIT supported computer please let us know so that we can either wipe the computer, add an additional account to it, or assist in the set up of a new computer. We can also add any printers to the computer that the employee might need. If possible we would like to assist with the setup of a new employee's computer prior to their start date to reduce any down time. If the employee will need an LSIT services account for Files or Webshare access please fill out the form to create an account here: 
https://secure.lsit.ucsb.edu/lsit/d7/get-help/?group=accountrequest
 (this can be done at any time during the onboarding process)
Employee Changing Departments
1)
The Tag Owner for the department will need to login and tag the employee in the new department.
b.
Once logged in you will see the departments that you are a Tag Owner for. Click on "Manage Group" next to the group you need to add the employee to.
c.
You will then be able to type the name of the new employee on the left under "Person Search" and click "Search". When the person's entry appears in "Search Results" select the entry to highlight it and then click on add to add the person to the Group Tag. You can then log out.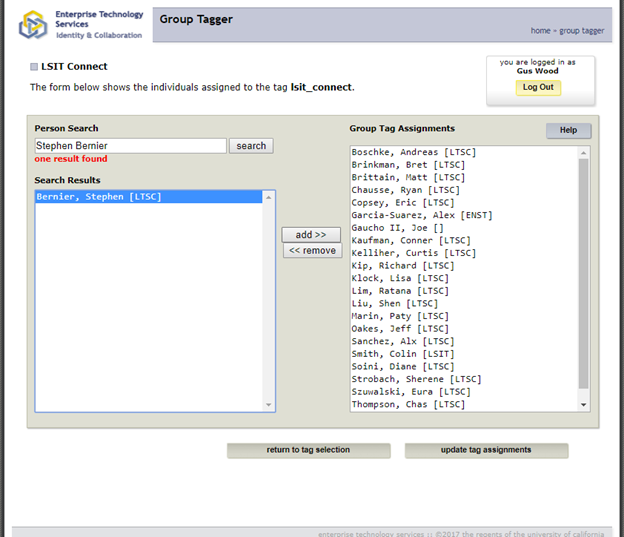 *The employee may wish to keep their email address from their old department for a period of time. Their old departmental address can only be removed by the CDA and Tag Owner of their old department. The proper way to do this is to remove the old address in the CAP and then remove the department tag of the employ in the Group Tagger. 
a.
With the "Manage Existing" tab selected type in the employee's name, their name should then auto populate below which can then be clicked on to open their profile.
b.
Once in the employee's profile you can then scroll down to the Addresses section, here you can see each of their email address aliases associated with their Connect account. To create a new departmental 
address 
under Additional Addresses and then under "Address Local Part" enter the employees email address prefix (labeled 1. Below) and then under "Address Domain Part" click on the drop down and select the employees department (labeled 2. Below) with each of these fields filled then click on "Add Alias" (3.) once the Alias has been added then at the bottom of the page click on Update (4.) this will complete the process of creating a new departmental address for the employee.