Although the Microsoft Student Advantage program allows installment of the OneNote and OneDrive applications, it unfortunately does not allow you to access these programs using your U-Mail account.
To use these applications, you will need to set up a separate Microsoft Account. This account may come with a limited amount of free storage. For more information, please contact Microsoft directly.
An alternative service for all UCSB students is Box. This service gives you 15GB free storage for as long as you are a student. Microsoft Office products integrate easily with the Box platform. After you graduate, you will be able to roll this into a personal account with 50GB of storage. To log in, use your UCSBNetID and password here: ucsb.box.com
If you attempt to save a Microsoft Office or OneNote document to OneDrive, you will be presented with this screen which prompts you to create a Microsoft account.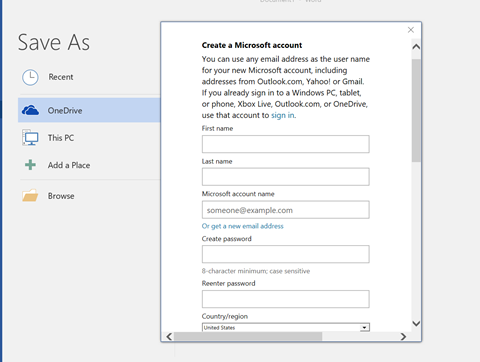 ******************************************************************************
Office 365 is an Enterprise Technology Services service for which Collaborate offers student support. For the latest information about U-Mail see: http://www.umail.ucsb.edu/about/student-advantage
******************************************************************************